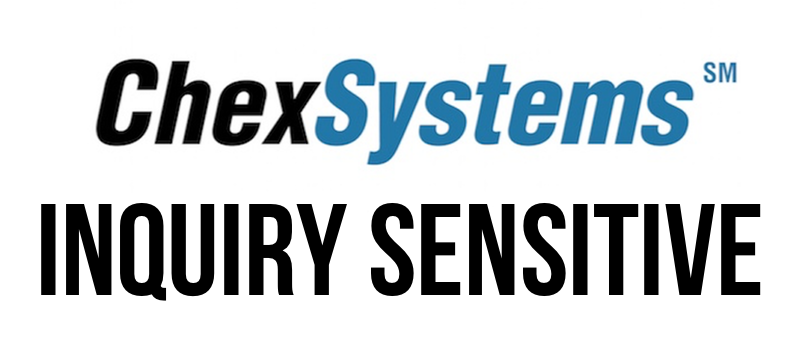 ChexSystems is a check verification service and consumer credit reporting agency owned by the eFunds subsidiary of Fidelity National Information Services. It provides information about the use of deposit accounts by consumers and is used by approximately 80% of all financial institutions.
It provides information regarding new account openings and reveals the following red flags:
Check Overdrafts
Depositing Fraudulent Checks
Unsatisifed Balances
Suspicious Account Behavior (reported via other banks)
What is ChexSystems?
Financial institutions that are ChexSystems Inquiry Sensitive may prevent you from opening a new account if you've opened too many new accounts recently or in a short period of time as it can be a sign of possible fraud.
In addition, these financial institutions want to limit people opening accounts only for bank account bonuses.
This post is a compilation of banks & credit unions that are sensitive to too many inquiries and those that aren't. Do keep in mind that these inquiries usually stay on our report for 3 years max.
Receive Your ChexSystems Report
Every 12 months you can request your personal ChexSystems report. Additional reports will cost you $10.50 each.
If you don't have a ChexSystems report that is a good thing. ChexSystems log negative activity, so if you've been paying off everything, you are fine.
Avoid Being Reported to ChexSystems
The best way to steer clear and avoid being reported is to keep a clean bank account record. By clean, we mean that you should not pay for something that you cannot afford at your current financial status.
Avoiding being reported by ChexSystems is relatively easy. By understanding your account fees and monitoring your account balance you can be financially responsible. If you notice a mistake on your report, make sure to contact ChexSystems.
How to Dispute ChexSystems Reports
If you notice mistakes on your ChexSystems report or were wrongly denied because of a ChexSystems screening, you have the ability to contest items on your report. In order to dispute an item follow these steps:
You will need a copy of your ChexSystems report. Remember, you can receive a free report every 12 months.
Follow the online process via ChexSystems Dispute Service. You will need to complete the application in full, and they will contact you approximately within 30 days.
If it turns out that the information on your report is correct, then you should pay any of the money owed.
Pay any outstanding balances.
Communicate to the bank that you've paid the balances and request them to report to ChexSystems of the occurrence.
Always keep documentation of all your activity as proof.
This process may take several days, even weeks at a time, but it is definitely worthwhile to take a negative item off your ChexSystems report.
Alternatives to ChexSystems Reports
Consumers with negative ChexSystems reports do have a few alternatives at their disposal.
If you're having trouble opening a checking account, here are two of the easiest workarounds:
Second Chance Bank Accounts

These accounts offer you the chance to open a bank account despite having an imperfect financial record
There are plenty of great options available, many of which also offer you a road to a standard, fully equipped account

Has limitations and some fees

Prepaid Debt Cards

A prepaid card works like a gift card
You load it with money and then use it wherever cards are accepted
You can send money with your prepaid card, pay bills online and set up direct deposit
In many ways, it acts like a debit card that you'd get with a checking account
Conclusion
Knowing which banks request a hard pull or soft pull against your credit will help you decide which bank accounts to open. Furthermore, you can find out if you qualify to open an account by checking out the list above.
Keep track of your account balances to steer free from issues like negative items on your ChexSystems reports. That way you can apply for some of the best bank promotions.