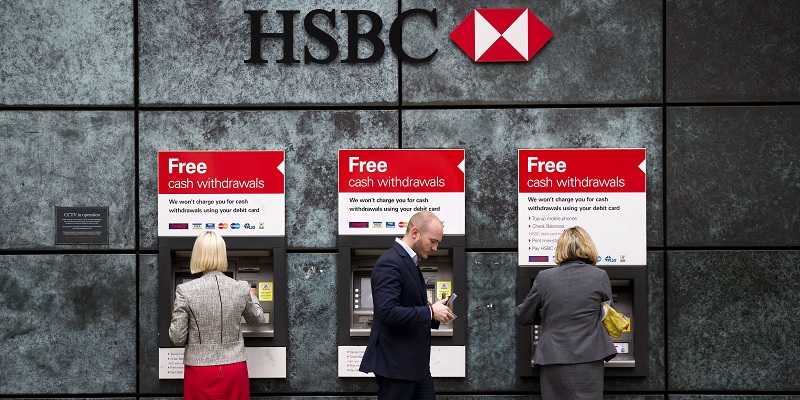 HSBC is one of the largest international banks, but they are mainly an online bank, with some physical branches globally.
They offers a full array of services for all your different banking needs, including a high-yield online savings and several checking options.
HSBC provides both traditional banking and investment services, while their online operation offers higher interest rates on its deposit accounts.
If you are looking for the convenience of a large traditional bank, while achieving high interest rates on your savings, this might be the right bank for you.
Continue reading if you want to learn more about HSBC Bank and how their checking options compare.
HSBC Bank Information
HSBC is an international bank with branches throughout the world. It is one of the largest banking and financial services organizations with a network covering 66 countries and territories.
They are a full-service bank offering personal and business financial products. Its products include checking, savings, mortgages, loans, credit cards, CDs, insurance, and retirement.
Routing Number: 021001088 – HSBC BANK USA, N.A.
Customer Service:

Personal Banking: 1-800.975.4722
HSBC Premier Banking: 1-888.662.4722
HSBC Advance: 1-866.584.4722
Checking Account Options
HSBC Bank offers different account. Be sure to read more to see which account fits your banking needs.
In addition to the great bonuses that are being offered, all checking accounts offer a HSBC Debit Mastercard, access to HSBC ATMs worldwide, free online and mobile banking, and optional overdraft protection.
HSBC AdvanceHSBC PremierBasic BankingChoice Checking
With the HSBC Advance checking account, you'll be able to take advantage of 24/7 priority phone support, international benefits, online financial tools, and much more.
The HSBC Premier checking account is best for high new worth individuals who requires global access. Additionally, you get a Relationship Manager who can help with all services that HSBC offers.
This is best for low balance customers since this basic checking account has no balance requirement, but it does have a $3 monthly service fee.
Choice Checking offers convenience and value to your day to day banking needs! With this account, you will get unlimited free check writing as well as free online and mobile banking!
Savings Account Options
HSBC is currently offering one of the highest interest rates on the market. Be sure to check out HSBC Direct Online Savings account to earn this great rate on your savings.
In addition, there is no monthly service fee, and the minimum opening balance is just $1.
This account is similar to a traditional savings account. However, this offer is only available online through HSBC Direct.
CD Account Options
A Certificate of Deposits, is an account where you get a locked-in interest rate for a set amount of time that is predetermined.
With a CD however, you must leave your money in the account for the entire term, or else you are subject to a penalty fee.
With HSBC CD accounts, the minimum required to open an account is $1,000, and there are no service fees.
HSBC Bank offers 3 term CDs: 6-month, 12-month, and 24-month. The interest rate isn't the best, so be sure to check out their online savings account to earn a higher interest rate.
Retirement Accounts
Check out these retirement accounts at HSBC Bank:
SIMPLE IRA
Traditional IRA
Roth IRA
SEP Retirement Plans
401(k) Retirement Plan
403(b) Retirement Plans
If you choose one the IRAs, you are able to choose between a managed or self-directed account.
Additionally, the IRA has no maintenance or termination fee if you are an HSBC Premier client.
If you are not a HSBC premier client, the annual service fee is $35.
Pros of Banking with HSBC
New customer bonuses:

HSBC frequently offers generous cash bonuses for new customers when they open a new checking account. Check out the list of current HSBC promotions.

Global access:

HSBC is a global bank that operates in 67 countries across Europe, Asia, North America, the Middle East and Egypt.
Great if you travel often because you'll be able to find your bank overseas
Easier to withdraw from ATMs and get emergency financial support if you need it.

No ATM withdrawal fees worldwide:

Able to use the debit card to access ATMs globally
Most ATMs with no withdrawal fees.

High Savings APY:

 HSBC Direct's online savings account offers one of the highest APYs on the market.
No monthly service fee and you only need $1 to open.

Overdraft protection:

All checking accounts come with an optional overdraft protection feature.
You can get a personal line of credit that allows you to borrow money as you need it
If you accidentally overdraft your checking account, this line of credit can be used to cover it.
Cons of Banking with HSBC
High Monthly fees:

Steep fees that come with HSBC's checking accounts
Only can be waived if you can meet direct deposit and/or balance requirements
Cannot waive monthly fee with basic banking

Interest rates are not competitive

Relatively low interest rates, except for HSBC Direct's online savings account
Other online banks offer better deposit rates
Conclusion
Being one of the largest banks in the world, HSBC Bank offers many different accounts to satisfy your needs.
Although they do not offer the best interest rates, they offer generous checking bonus frequently, so I recommend you check those out.
In addition, you will be able to gain access to many great features with the account.
Additionally, be sure to check out our list of the best bank bonuses currently available to fit your banking needs!
Check back often to find new HSBC Bank bonuses, promotions, and offers!