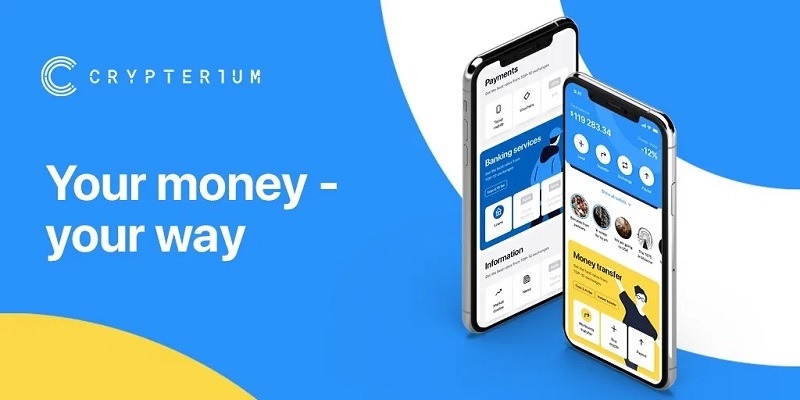 Crypterium is offering $5 Welcome Bonus & $5 + 25% referrals!
You can store, buy, exchange, and transfer a variety of cryptocurrencies such as Bitcoin, Ether and Litecoin, at fatansic market rates.
Check out these other crypto promos such as Coinbase, Voyager, SoFi, and many others.
There are also a variety of other referral bonuses to take advantage of!
Crypterium $5 Welcome Bonus
You can earn a $5 cash bonus when you sign up for a new Crypterium account! You earn the bonus when you use a referral link and enter the referral code during registration.
In order to qualify you need to make your first crypto-fiat transaction (buy crypto, cash out or top up card) for at least 50 euros (USD $55). When you finish this transaction, you will receive your bonus within 72 hours.
Crypterium $5 + 25% Referrals
Receive a $5 cash bonus + 25% commission for a year each time you refer someone to use Crypterium. Your referrals will also get a $5 cash bonus as a new user.
In order to qualify follow the requirements listed below:
You send your friends and family a referral link, along with a $5 gift courtesy of Crypterium.
Your friend registers for a Crypterium account using the referral link and completes one of the following transactions of at least 50 euros: buy crypto, cash out, or top up card.
You and your referral will receive your $5 bonus within 72 hours.
Receive 25% on all your referral's transaction fees for one year.
Crypterium Features
Crypterium has got everything crypto. You can buy digital assets, send crypto using the recipient's phone number, make bank transfers, and use your Crypterium Card to pay with the currencies of your choice.
Their app also has several other features such as:
Supported Cryptocurrencies

Currently, Crypterium allows you to store your funds in BTC, ETH, LTC, USDC and CRPT. New currencies will be added regularly.

Instant Transactions

Crypterium has off-chain transaction which means its instantaneous. Off-chain transactions are also more secure, because your details are not publicly broadcasted.

Crypterium ID

Crypterium ID is a unique number given to every registered user. This allows you to send and receive money as long as its a supported currency.

Mobile Bank Level Security

Crypterium uses a "hosted wallet" solution to fulfill the most modern security requirements for mobile banks.
Bottom Line
The Crypterium $5 Welcome Bonus & $5 + 25% Referrals is a simple way to earn by inviting your friends and family.
Additionally, you can find a full list of the best bank promotions here. Finally, remember to bookmark this page because you will always find an updated list of Crypterium promotions here.