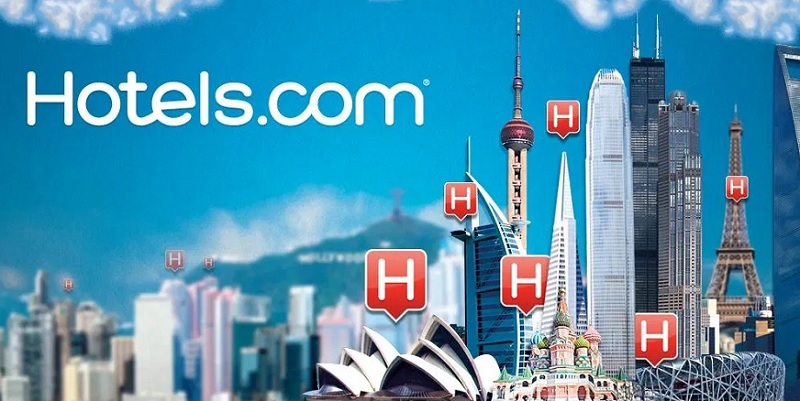 Hotels.com is currently offering a $50 cash bonus when you book a hotel using our referral link. You can also earn $50 credit for each of your friend or family members you refer to book a hotel.
Hotels.com is a part of Expedia Group and is one of the many popular hotel booking service. Hotels.com gives you tons of hotel options at low prices. In addition, Hotels.com has a rewards program that allows travelers to earn rewards when they book their stay with the site. If you would like to learn more, continue reading this guide.
Hotels.com Promotions & Deals
Extra 5% Off Hotels with Free Cancellation on Most Hotels When you Book Now and Stay Later. Use code SAVE5APR21. Book by 4/11/21, travel by 9/30/2021.
Save $5 when you spend $50+ with code 5OFF50US. Book by 12/31/21. Travel by 3/31/22.
(Sign Up Now)
$50 Off Your First Booking

Earn a $50 bonus when you use our referral link and book your first Hotels.com stay of $200 or more.
12/15/2020 Update: The referral offer is currently unavailable. Check the link to make sure.
(Sign Up Now)
Terms and Conditions
These terms (the "Terms") govern your participation in the Hotels.com Refer-a-Friend Program (the "Program"). Please read them carefully. By participating in the Program, you automatically indicate your unconditional agreement to these Terms.
Eligibility: The Program is open to Hotels.com members in the United States who are at least eighteen (18) years old. However, individuals who are employed in the travel industry, including hotels, travel agencies, and airlines are not eligible to participate in the Program.
Timing: The Program is currently scheduled to end on April 1, 2020. However, we reserve the right to change the end date at any time, in our sole discretion.
How to Participate: To participate, you can use the referral links available on the Program page to refer eligible friends to Hotels.com, either via e-mail or on Facebook. An eligible friend is one who: (a) is a United States resident and least eighteen (18) years old; (b) has never previously received Hotels.com newsletters or booked on Hotels.com; and (c) is not employed in the travel industry, including hotels, travel agencies, and airlines. Each eligible person that you refer will receive a coupon that can be used on their first qualifying booking on Hotels.com. There is a limit of one (1) coupon per referred friend.
$50 Referral Credits 
12/15/2020 Update: This referral offer is currently unavailable. Keep checking the link below just in case.
Earn a $50 bonus credit when you refer a friend or family member to books a trip on  Hotels.com of at least $200 using your unique referral code.
To earn this bonus, go to the Hotels.com referral page. Then select how you want to share – Email, Facebook or copy link – and follow the remaining steps.
However, be sure to note that you are limited to 10 referral bonuses or $500 total.  This offer is open to Hotels.com members in the United States who are at least 18 years of age.
---
About Hotels.com
To book your vacation, input your destination and dates. Hotels.com will give you all available listings for your desired destination and days. You can filter your results based on rating, price, and distance from landmarks. Hotels.com also offers daily deals and promotions.
You can filter your hotel results to show hotels with certain features or accessibility requirements. They even have an option for accommodation type such as guest houses or vacation home.
While you are able to book flights and vacation packages, Hotels.com does not offer rental car services.
Hotels.com Rewards
Hotels.com offers a reward program that allows you to earn free nights for using their services. For every 10 nights you stay, you will earn one night free. Frequent Hotels.com guests can also earn rewards based on their Silver and Gold status tiers:
Silver. Receive priority customer service and early access to special promotions. To unlock these benefits, you need to stay at least 10 nights in one year.
Gold. Unlock these benefits when you stay 30 nights a year. You will also also receive special deals that offered exclusively to  members of this tier only.
Author's Verdict
Hotels.com provides an easy way to book a vacation stay and they offer exclusive deals to reward program customers. In addition, you can earn free nights when you join the rewards program and rack up on stays.