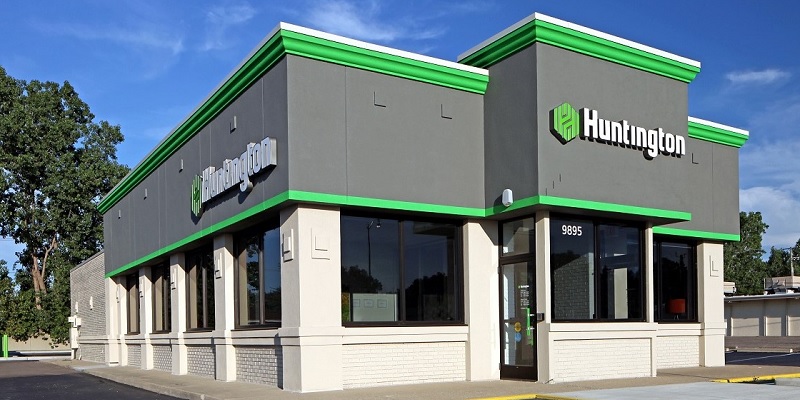 If you live in the midwest, you may have noticed a growing number of Huntington Bank branches.
If you are looking for the convenience of a large traditional bank, and are looking for a checking account for everyday or business use, this might be the right bank for you.
Huntington Bank is currently offering bonuses when you open one of their select checking accounts! Continue reading if you want to learn more about Huntington Bank and how their checking options compare.
Huntington Bank Information
The Huntington National Bank is a subsidiary of Huntington Banshares  Incorporated which is headquartered in Columbus, Ohio. It is one of the leading banks of America.
Huntington has over 950 branches. The majority of the offices are in the Midwest. The bank has offices in Michigan, Ohio, Indiana, Pennsylvania, Wisconsin, Illinois, Kentucky, and West Virginia. It also operates in Florida, Hong Kong, and the Cayman Islands.
They are a full-service bank offering personal and business financial products. Its products include checking, savings, mortgages, loans, credit cards, CDs, insurance, and retirement.
Routing Number: 044000024– Huntington Bank USA, N.A.
Customer Service: (800)-480-2265
Checking Account Options
Huntington Bank offers different account. Be sure to read more to see which account fits your banking needs.
In addition to the great bonuses that are being offered, all checking accounts offer free online and mobile banking  and optional overdraft protection.
Right now, Asterisk Free Checking, Huntington 5 Checking and select business checking accounts are offering bonuses when you apply for them.
Huntington 25 CheckingHuntington Asterisk-Free CheckingHuntington 5 CheckingHuntington Business Checking 100Huntington Unlimited Business CheckingHuntington Unlimited Plus Business CheckingHuntington Relationship Money Market
Personal Checking Account Features
Access To ATMs

Our ATM network allows you to withdraw cash, deposit checks and cash, even transfer money between accounts – all for free.

Access To Branches

Talk about your financial goals with our wide network of bankers and plan for your present and your future.

24-Hour Grace Overdraft Fee Relief

If you accidentally overdraw your account we give you more time the next business day to make it right. Learn How It Works.

All Day Deposit

Our deposit day on ATMs and our Mobile App ends at midnight, so you don't have to rush to beat an early cut-off time. Learn More.

Free Online Bill Pay

When you log in to Huntington.com, you can check balances, transfer money and pay bills. Keep track of your spending with our free Online Bill Pay.

Free Mobile Banking

You can check your balance, transfer funds and even deposit checks free from your phone and iPad®.

Free Alerts

Set up text, email or push notification account alerts to keep track of your money. (Message and data rates may apply.)
Business Checking Account Features
Offset Service Fees
Make Branch & ATM Cash Deposits
Overdraft Protection

Overdraft Protection Account with no annual fee (credit application and approval required), or Deposit-to-Deposit Overdraft Protection with no transfer fee. Regulation limits the number of transfers that can be made from a Savings or Money Market Account during the statement cycle.

Free Huntington Debit Mastercard Businesscard

Make everyday purchases anywhere Mastercard® is accepted and use Huntington ATMs with no fees. Learn More.

No Fee Link MMA or Savings

Add a linked Business Money Market or Savings account, and there is no Monthly Service Fee on that account. Learn More.

Access To ATMs

Withdraw cash, deposit checks and cash, or transfer money between accounts for free, with Huntington ATMs. Find A Local ATM

Free Online Statements

Stop managing paper statements and keep information out of your mailbox with Online Statements and our Huntington online banking.
Conclusion
Being one of the largest banks in the Midwest, Huntington Bank offers many different accounts to satisfy your needs.
Although they do not offer the best interest rates and some accounts have high monthly fees, they offer generous checking bonus frequently, so I recommend you check those out.
In addition, you will be able to gain access to many great features with the account.
Additionally, be sure to check out our list of the best bank bonuses currently available to fit your banking needs!
Check back often to find new Huntington Bank bonuses, promotions, and offers!