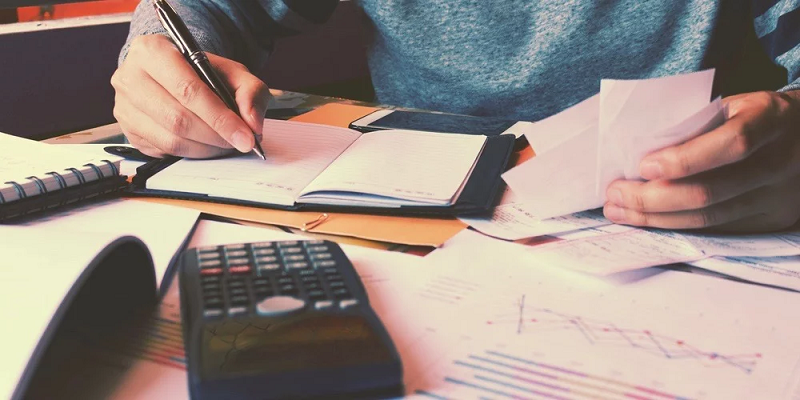 Opening a bank account online is quick and easy. It can take just minutes and save you a trip to a bank branch. And if you're opening an account at an online bank, it may be your only option. The top online banks are FDIC-insured and offer higher rates than typical brick-and-mortar banks, and they often charge low or no fees.
In this guide we will break down the essentials you need to open a checking account and some key tips when using  a checking account.
Things To Know Before Opening A Checking Account
Most accounts will include basics like a debit card and the ability to set up direct deposits. But additional features can vary between different financial institutions.
You can set up a checking account through a:
Physical bank
Credit union
All three have pros and cons. Make sure to look into accounts from multiple types of institutions before settling on one.
How Do I Choose the Right Bank?
There are many banks to choose from both online and in your city. When choosing a bank, you may want to compare a few to decide which one is best for you. Some things you may want to look for include:
Banking fees: You'll want to ask "how much is it to open a bank account?" Although you don't have to pay a fee to open one, monthly fees like ATM withdrawal charges, maintenance fees, overdraft charges and credit card annual fees can add up.
Consider credit unions: Credit unions provide competitive interest rates and affordable banking services because they're not-for-profit. Most credit union banks only accept members from specific professions, colleges, federal government work, military or residents of a certain area.
Digital access: Does the bank have a good smartphone app or online services available so you can bank from anywhere, 24 hours a day?
Location: Would you like to occasionally run into a local branch to cash a check, make a deposit or talk to someone at the branch? This may be helpful if you're just learning about banking basics and could benefit from your local banker's advice. If you're thinking about an online-only bank, what ATMs can you use? How can you make deposits? How can you reach customer service if you have any questions?
Minimum monthly balance: some banks may charge you a service fee if you don't keep a certain amount in the account.
Other services: Would you prefer a bank that also offers auto loans, credit cards, business loans or investment services?
How to Open a Checking Account
What do you need to open a bank account? Regardless of what type of account you choose to open, you'll need to fill out an application. You'll need to sign a signature card (that can be accessed by the bank to verify it's you) at the local branch or mail one in to your online bank.
To open a checking account or any other type of account, you'll also need the following:
A government-issued photo ID like a driver's license, state-issued ID or passport. Some banks may require two IDs. A birth certificate, social security card or a credit card in your name could serve as the second ID.
Date of birth.
Opening balance. Depending on how much your bank requires, be prepared to bring in cash or a check to fund your new account. Checking and savings accounts don't normally require more than $25 to open one.
Physical address. Although you can provide a mailing address, a street address is required under federal law.
Social Security Number (SSN) or Taxpayer Identification Number (TIN).
Here's what you'll need to do after you have your documents ready:
Have money for an opening deposit: Make sure to check if your bank requires a deposit for your type of account. The minimum for many basic accounts is $25.
Fill out an application: You can do this online or in-person. Most financial institutions will run a credit check on you to see your past banking history and then approve or deny you for the account.
Sign your paperwork and create your PIN: You'll usually receive all of your official account materials, such as your debit card, in the mail a few days after opening. If you're opening an account in-person, you may be able to get a temporary debit card to use in the meantime.
Make your opening deposit (if required): The money you deposit may not be available immediately, depending on your form of payment.
Use your new checking account: Depending on the institution and type of account, you may be able to use your checking account immediately or may have to wait a few days. This is a great time to set up direct deposit and bill pay, add other linked accounts you want to have available, or close an old checking account.
Find Features That Fit Your Lifestyle
Everyone's banking needs are a little different, so think about your lifestyle and what you need your checking account to handle. Need to pay bills online? Do you travel and need ATMs in lots of locations? Maybe you want to deposit paychecks with your phone on the go. All totally doable. Just keep a list of "must-haves" handy as you compare banks.
Overdraft protection is another option to think about. Say you lose track of your balance and spend more than you have in your checking account. Lots of people have been there a time or two (or three), which can result in a penalty. Luckily, there are checking accounts that come with a range of overdraft protection options that can keep those fees at bay.
How To Fund Your Account
When you open an account online, an initial deposit usually means making a transfer from an existing account. If your bank is all online, you may also be able to fund with a check or money order. And if your bank has local branches, you can also visit one to deposit cash.
Once you enter the details for the transfer, choose an amount that satisfies any minimum balance or starting deposit requirement. The funds generally take a few days to process, and then you can start managing your new account.
If you're ready to open a new bank account, familiarize yourself with some banks and credit unions below on our full list of bank promotions.
Author's Note
Opening a checking account is easy when you have all of your materials gathered. Before you commit to one, make sure that you know everything that you'll need to do to maintain it and possibly avoid any extra fees.
In addition, we have a list of bank promotions to get some extra cash in your pockets today. You may also want to check out savings accounts if you want to get started on saving up money.