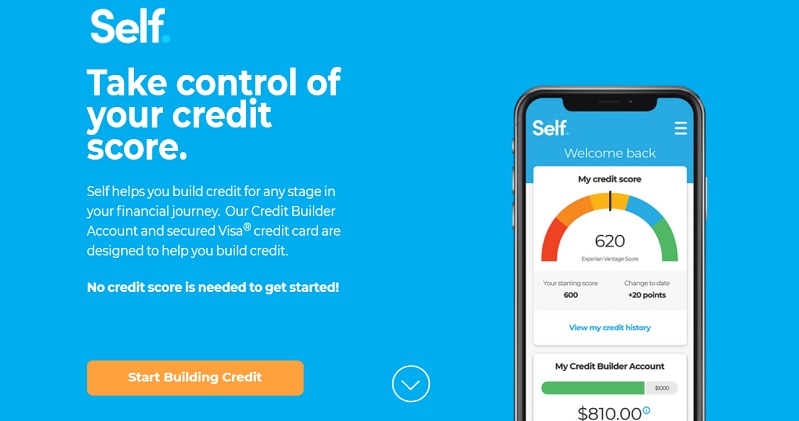 Self is currently offering a $20 cash bonus when you refer a friend or family member to their credit building service. Find other referral bonuses here.
If you are having problems with your credit score, opening a credit card, or getting a loan,  Self.inc offers credit builder loans to help improve your credit score, without any money upfront. Continue reading this guide to learn more about their services.
Self.inc $20 Referral Bonuses
Right now, you can earn a $20 cash bonus when you refer any person to join Self. To earn the bonus, follow these steps:
Sign up for Self and log into your account.
Find your unique referral code and share your link with your friends and family.
For every person who signs up for a Self Credit Builder account you will earn $20 when they make at least one successful monthly payment.
Bonuses can take up to seven to ten business days after your referral's first payment to receive your bonus.
(Sign Up Now)
Self Credit Builder Account
Self Credit Builder Account Requirements: 
Must be at least 18 years old.
Be a permanent U.S. resident.
Have a Social Security number.
Have either a bank account or debit card.
Not have had a negative ChexSystems report, such as bounced checks or unpaid fees, in the previous 180 days.
How Self Credit Builder account works:
Sign up with the link above for a Self credit builder account.
Choose a payment plan and pay off your credit builder account in 12 to 24 months
For each payment you make, it will improve your credit and any money saved will be put into your account
Your money will be  released to you when you have paid off your loan in full.
Account Features:
Credit score is not required which means there will not be a hard pull on your account
Free credit score monitoring
Secure accounts that offer two-factor authentication and fraud detection
Conclusion
Self is a great company if you are looking to build your credit. They are a credit builder loan service to help rebuild your credit without needing an upfront  deposit. In addition, they are currently offering a $20 cash bonus for every person you refer.
(Sign Up Now)