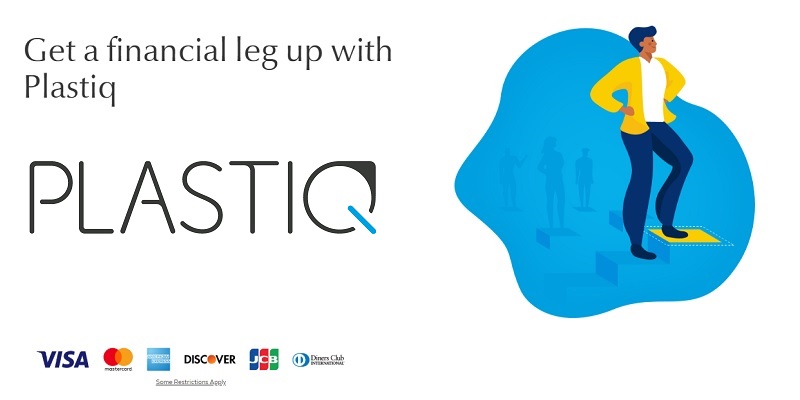 Normally when you purchase a credit card, you are eligible for bonus offers and can consistently earn rewards on it when you pay for goods and services; however, sometimes personal living expenses such as bills won't accept credit card payments.
That is where Plastiq comes into the picture. Plastiq is a bill paying service that will take care of the heavy work for you while you can enjoy spending your card on leisure to earn rewards.
While you are earning rewards, your bills will be taken care of by Plastiq so there is no unnecessary stuff to worry about. Plastiq is also a prevalent way to meet the minimum spending requirements for credit card bonuses.
Plastiq Bonus Referral Program
Plastiq has a referral program where you can earn "Free Free Dollars" (FFD) when you refer a friend to their service. Every new member gets a bonus of $500 in free-free processing while you get $100 in free-processing.
The "Free Free Dollars" acquired from referrals thus allows you to earn rewards (points, miles, cash back) without having to pay fees.
The only catch is that your referred friend must make at least $500 in payments before the next $500 can be considered "free-free". When this goal is achieved, "Free Free Dollars" will initiate.
You can send out referral links via email or social media using your own referral link when you sign up, but lucky for you, I have a referral link for Plastiq right here! If you sign up through this referral link, you will automatically get $500 FFDs!
To sign up for Plastiq simply:
enter your email
confirm via the email notification sent to yours
click continue and follow the steps from there on out
How Does Plastiq Work?

Plastiq exists so that payments that can't be made via credit card becomes possible. All you have to do is open a free account, enter your credit card information, your billing information and schedule a specific payment. From there on, Plastiq will process your information by sending a check to the recipient and the expenses will be charged to your card.
Not only your bills will be taken care of, but these charges will contribute towards earning rewards on the credit card linked with Plastiq!
There is however a 2.5% processing fee for credit cards, prepaid cards, and gift card payments, but, as time goes by, this might change due to promotions that could extend lower fees. Plastiq also accepts debit cards but has a 1% fee for transactions.
Plastiq also accept wire or Automated Clearing House (ACH) transfers depending on the recipient.
Maximizing With Plastiq
It is best to make the most out of Plastiq, so, choose the services you want to pay for wisely. Below are three examples on how you can meet minimum spending requirements and maximize your rewards as much as possible.
Rewards Exceeding 2.5%
Sometimes the rewards can become more than the processing fee, if that becomes the case, then using Plastiq is perfect because you will have an extra amount leftover.
Meeting the Minimum Spending Requirements
When you utilize Plastiq along with your credit card that offers great credit card bonuses, there is always a minimum spending requirement. Cards like the Chase Sapphire Preferred offers 60,000 bonus points if you spend $4,000 within 3 months which exceeds the 2.5% fee. Other cards that are co-branded from hotels like the Marriott Bonvoy Boundless offers status upgrades when you reach certain spending requirements.
Cash Advance Note
Some credit cards have cash advance fees, but if you use Plastiq, there's no need to worry because Plastiq counts most transactions as just regular purchases that earns points toward the minimum spending requirements. I would advise to avoid using a Visa or pre-paid card when you first sign up for Plastiq; doing so can void cash advance fees.
I recommend using a Mastercard, Amex or Discover card when paying your recipient. From then on out, you can then switch to using a pre-paid card with the extra fee.
To see which kind of Visa credit cards are eligible to use with Plastiq, click here for more information.
You can also always contact Plastiq to make sure of what kind of cards are eligible for their services.
Eligible Credit Cards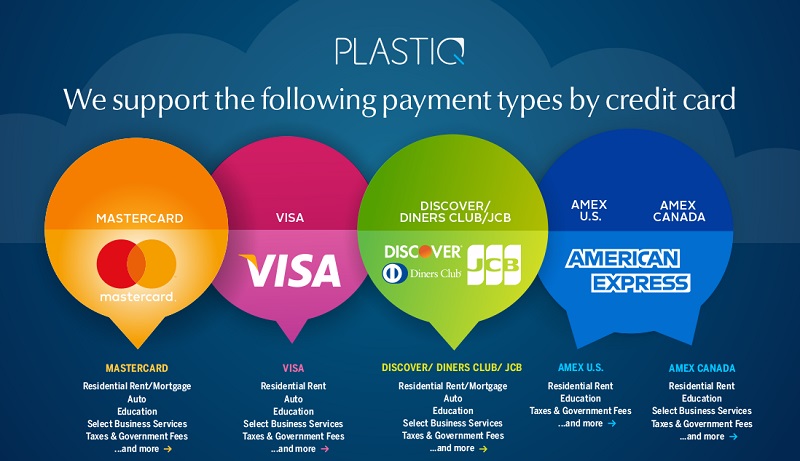 Plastiq accepts a variety of cards such as Mastercard, Discover, American Express and Visa. Pre-paid gift cards are eligible to use as long it is not the first card you apply with when you first sign up, otherwise cash advance fees may incur. If you use your address as the billing address, you can avoid the one dollar hold as well.
For more information on which payment type is eligible for each card, check down below for this convenient chart guide designed by Plastiq themselves. Click the image also to enlarge.
Other Things to Keep In Mind
Plastiq benefits small businesses
Any payee besides yourself will also receive a check
Federal tax payments are paid with checks
Check payments take approximately 2 weeks to reach the payee; ACH payments take a week
You can set up monthly payments for personal living expenses such as rent, loan, mortgage, etc.
Check payments expire in 30 days
Plastiq offers express shipping within two business days that includes:

Express check delivery
Standard & express ACH bank transfers
US domestic wires
Author's Verdict
Those who don't have time to necessarily pay bills on their own should utilize Plastiq's services, but also anyone who is interested in a more convenient and secure way to ensure that your bills get paid. You earn credit card rewards each time a payment goes through while not having to stress over late payments or anything since Plastiq's system will take care of that.
Of course, you should be careful to make sure that your fees will not surpass your rewards to avoid extra charges since you want to get the most of your spending requirements. Otherwise, there shouldn't be any difficulty with using Plastiq to make your life a little easier!
Other Bank Bonuses You May Like


• Chase Bank Bonuses. Chase usually offers the most sign-up bonuses out of all the big banks. Read up and enjoy several promotions for their Checking, Savings and Business accounts.
• HSBC Bank Bonuses. HSBC has some big value offers available for their Checking accounts. Some require hefty deposits to qualify. They also have an online Savings account offering a very competitive rate.
• Huntington Bank Bonuses. Huntington has Consumer Checking and Business Checking accounts available throughout the year.
• Discover Bank Bonuses. As an online bank, Discover offers high and competitive rates on their Savings, CD, and Money Market accounts. Enjoy excellent customer service nationwide.
• TD Bank Bonuses. TD Bank consistently offers great Checking account bonuses all year long. Savings account offers are less frequently available.