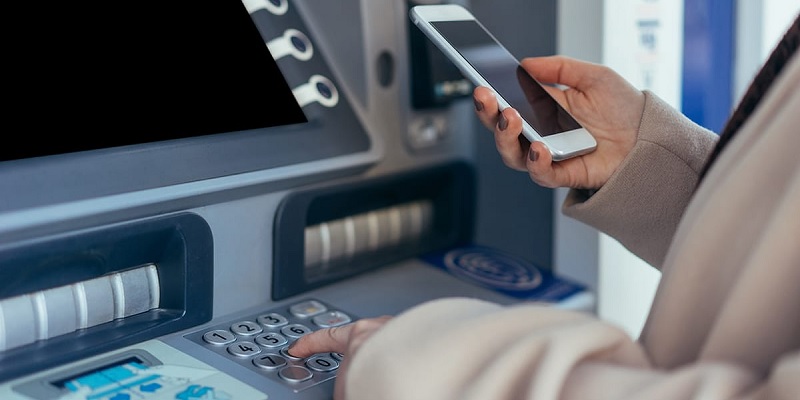 Every now and then, you need cash. Those who have a bank account can easily withdraw their money using an ATM/debit card. However, not everyone has a bank, account whether they don't qualify or just don't want one. Or you may have lost some debit card and you need some cash this moment. Whatever your circumstance is, here are some options to consider if you need to withdraw money without a debit card.
Editor's Note: If you're interested in opening a bank account, check out our list of bank promotions before applying for one! You may get some extra money in your account this way.
---
Use an ATM
Using an ATM is the most efficient way to withdraw money from your bank account. You can use a Debit card or an ATM card. Debit cards are used to make purchases from a checking account, and can also be used at an ATM. Furthermore, ATM cards can be used at ATMs, but not to make purchases. They are often linked to savings accounts, which usually have restrictions on making purchases.
To withdraw money from an ATM:
Traditionally, you will need a card to use an ATM, but some banks provide other options.
Insert the card into the slot on the machine.
Enter your four digit PIN (Personal Identification Number)
Navigate options either using the touch screen or with the number keypad.
Most accounts have daily withdrawal limits, and most machines only dispense cash in multiples of 20.
Remember that while ATMs owned by your bank normally don't charge to use them, if you use an ATM outside of your bank's network, you can be charged varying amounts for a transaction.
---
Write A Check To Yourself
This is the easiest way to get cash without a debit card. All you need to do is write yourself a check, either payable to yourself or "Cash" and take it to your bank to cash. Give your check to the bank teller and receive your funds in return. If you don't have your debit card, you'll need to present your driver's license or ID to the teller.
If you don't have a bank account at the bank where you're cashing the check, you probably can't cash the check or you may need to pay a fee or sign up to become a customer to be able to cash it.
You can also visit a retail store and see if they will accept a check from you made payable to cash. A check made out to cash is unsecured. This means if you lose the check, the finder can receive the money unless you stop payment on the check first. Don't write out the check until arriving at the bank or retailer to avoid this risk.
---
Get Cash Through the Bank's App
If you bank with Wells Fargo, you can take advantage of 13,000 ATMs without a debit card. Use the bank's app to get a one-time 8-digit code to use as your ATM PIN.
BBVA Compass has Mobile Cash which allows you to send money using a cell phone to any BBVA ATM. There, you can pick it up or you can send it to someone who can pick it up. If the sender isn't a BBVA customer, they'll need to pay a fee.
BMO Harris and Bank of Hawaii offer barcodes instead of numerical PINs, and when you're at the ATM you need to scan the QR code, plus enter your PIN to verify your identity.
Other banks that have this feature include Bank of America, Chase Bank, Fifth Third Bank, Salem Five, and Wintrust Financial.
---
Use A Payment App From Your Smartphone
Some apps let you send money to a friend who can withdraw the money for you. With this option, you won't be able to pull out large sums of money. There will be restrictions on how much you can send. However, this is a great option to withdraw money without using a debit card.
Venmo: Venmo is a popular app that allows you to send and receive money that's free to use. All you need is the person's Venmo username, phone number, or email to send money. Both parties must be signed up with Venmo to use it.
Zelle: Zelle is another popular app to send and receive money. However, you must have a bank account since it caters to sending money to and from different banks, almost instantly. There are about 60 banks that support the use of Zelle including Ally Bank, Bank of America, Capital One, Chase, Citibank, PNC Bank, and Wells Fargo.
PayPal: With PayPal, you can send money to someone with just an email address. Make sure you choose the "pay friends and family" option. Otherwise, the person receiving the funds will have to pay a transaction fee.
Google Wallet: You can send money with Google Wallet by entering the recipient's phone number and put in the amount you want to send.
Facebook Messenger: If you and your friends and family use Facebook Messenger, you can send money by selecting "payments" and including the amount and recipient.
---
Author's Verdict
Though not all of these options will give you straight up cash, you can still withdraw money from your account without a debit card. If you're constantly without cash on hand, it might benefit you to just open a bank account. There are many online banks like Ally Bank, Capital One 360, and Discover Bank offering simple checking and savings accounts that don't cost much and may even earn you interest. You can also open a credit card if you don't like carrying cash with you. Otherwise, check out our list of bank promotions to find an account that suits you!