Get the TD Ameritrade difference! Whether you're new to trading or looking for a new platform, you're definitely heading in the right direction. All of their platforms come with the backing of value, support, and knowledge – giving you more than just a technical edge. Did you know that many Americans are not saving enough for their future & retirement? Get ahead and start today!
Choose what works for you. At TD Ameritrade, they understand that every trader and investor is different. That's why you get your choice of the platform that best fits your needs. Plus on-the-go mobile access keeps you in the know.
Get support & training that helps you get started fast. Get access to videos, webcasts, and articles on popular investing and trading topics for all levels of experience. Onboarding resources for trading platforms, such as the thinkorswim thinkManual and Learning Center, help you to begin trading right away.
Not only will you get access to useful resources and tools when you open a new account, TD Ameritrade is currently running a promotion where you can earn $100 up to a $600 cash bonus + commission-free trades for 60 days when when you open a new Individual, Joint or IRA TD Ameritrade using offer code 220 and meet the tiered funding requirements!
---
Why Choose TD Ameritrade?
---
Investing Built Around You
---
Get investing that's built around you. For over 40 years, TD Ameritrade has been proud to help their clients pursue their financial goals while giving them more time to focus on what really matters in life. Everything they offer – from guidance, to powerful trading tools, to retirement resources – is built around one thing… you.
---
There when you need them. Yes, really.
TD knows it's important to get professional guidance you can trust. That's why their experienced, licensed reps are available by phone, email, online, and in-person for one-on-one support – when you need it most.
Intuitive, powerful tools designed for you.
Whether you're an active trader or long-term investor our web, mobile, and downloadable platforms give you everything you need to research stocks, place trades, and manage your portfolio with access to live-streaming CNBC, real-time quotes and specialists with years of floor trading experience.
You have needs, TD have solutions.
Trade and invest how you want with access to a variety of investment choices. Select from equities, bonds & CDs, options, non-proprietary mutual funds, forex trading and more to diversify your portfolio.
Straightforward pricing so you don't have any surprises.
Their $6.95 flat-rate commission on all online equity trades gives you access to our award-winning investing and trading experience. Plus, TD keeps their pricing simple with no share limits or hidden fees, no trade requirements to access advanced features, and no opening deposit minimums.
Education on your terms.
Make smarter investing decisions with access to innovative educational resources ranging from individual videos and courses to customized learning curriculums from TD Ameritrade and our affiliate, Investools.
Get research and insights you can trust.
Get fresh research from independent third parties like Morningstar®, CFRA (formerly S&P Capital IQ), and TheStreet. Access streaming news and level II quotes, market insights, and more when you need it.
---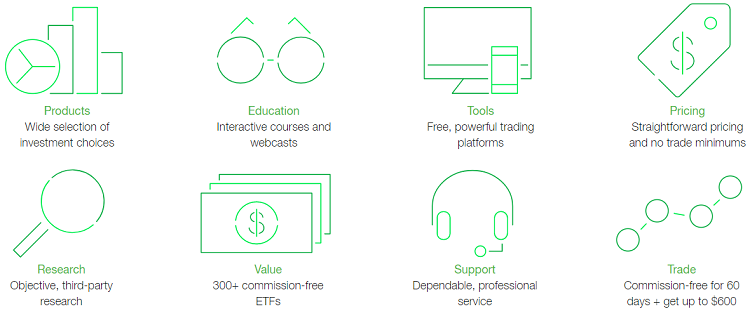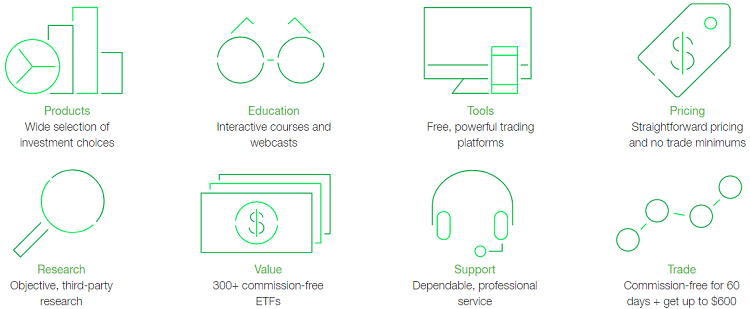 ---
TD Ameritrade – Bonus Requirements
---
Offer valid for one new Individual, Joint or IRA TD Ameritrade account opened and funded within 60 calendar days of account opening with $3,000 or more.
To receive $100 bonus, account must be funded with $25,000-$99,999.
To receive $300 bonus, account must be funded with $100,000-249,999.
To receive $600 bonus, account must be funded with $250,000 or more.
Offer is not valid on tax-exempt trusts, 401k accounts, Keogh plans, Profit Sharing Plan, or Money Purchase Plan. Offer is not transferable and not valid with internal transfers, TD Ameritrade Institutional accounts, accounts managed by TD Ameritrade Investment Management, LLC, current TD Ameritrade accounts or with other offers.   Qualified commission-free Internet equity, ETF or options orders will be limited to a maximum of 500 and must execute within 60 calendar days of account funding. Contract, exercise, and assignment fees still apply. Limit one offer per client. Account value of the qualifying account must remain equal to, or greater than, the value after the net deposit was made (minus any losses due to trading or market volatility or margin debit balances) for 12 months, or TD Ameritrade may charge the account for the cost of the offer at its sole discretion. TD Ameritrade reserves the right to restrict or revoke this offer at any time. This is not an offer or solicitation in any jurisdiction where we are not authorized to do business. Please allow 3-5 business days for any cash deposits to post to account. Taxes related to TD Ameritrade offers are your responsibility. Retail values totaling $600 or more during the calendar year will be included in your consolidated Form 1099. Please consult a legal or tax advisor for the most recent changes to the U.S. tax code and for rollover eligibility rules. (Offer Code: 220).
---
What You'll Need To Open An Account
---
It's easy. Open an account in five simple steps. You'll soon have access to an array of investment products, trading tools, and educational resources—all with straightforward pricing and no hidden fees. What you'll need to open an account:
A few minutes to complete the application form
Social Security Number (SSN) or Individual Taxpayer Identification Number (ITIN)
Foreign tax ID, passport, or visa number (if you're not a citizen or permanent resident of the U.S.)
Employer's name and address
Step 1: Start Your Application
Step 2: Tell TD More About You
Step 3: Review & Edit

Step 4: Agree To Terms
Step 5: Create Your Log-In
---
Powerful Trading Platforms & Tools
---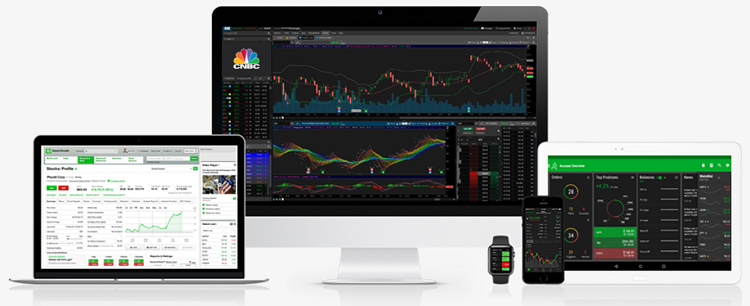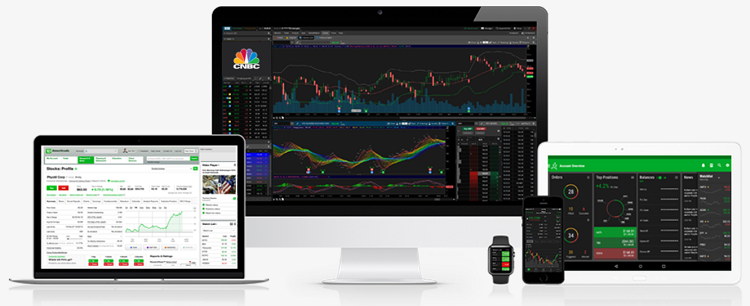 ---
Web Platform

All the tools any level of investor needs to:

-Access independent third-party research, educational resources, and planning tools
-Stay up-to-date on the latest financial news from Yahoo! Finance in the customizable Dock
-Track social sentiment and volume with social signals, a one of a kind trading resource that pulls insights from Twitter

thinkorswim

A professional-level trading platform for serious traders looking for:

-Elite level tools to perform analyses and test strategies
-Idea generation with market scans and ability to monitor potential risk/reward
-Onboarding tools like thinkManual and Swim Lessons to get started quickly

Mobile Trading

TD Ameritrade is the leader in mobile trading with powerful mobile offerings for investors and traders that want:

-A choice of device-optimized mobile apps, now including Apple Watch™
-The ability to manage investments, seize opportunities, and more
-Access to the #1 trading app in the App Store
---
TD Ameritrade Account Benefits
---
Simple Flat-Rate Pricing: All internet equity trades are $6.95, regardless of your account balance or how often you trade.
Trade Architect: They currently offer a web-based trading platform that allows you to trade more confidently with powerful tools, live CNBC and options education.
thinkorswim: Allows you to stream real-time data, customizable charts, and integrated one-click trading allow you to seize market opportunities with our most advanced trading platform.
Account Support: 24/7 account support and free access to trading specialists. Contact: 800-454-9272
---
Investment Products
---
All you need to build and manage your portfolio—in one place. Having access to a wide variety of online trading and investment choices, powerful trading platforms, and research and education can help you build a portfolio suited to your needs.
At TD Ameritrade, they do not charge platform or data fees. Accessing a trading specialist is always free and our low $6.95 flat price per online equity trade applies no matter your account balance or trading frequency.
---
Giving You More Value In More Ways
---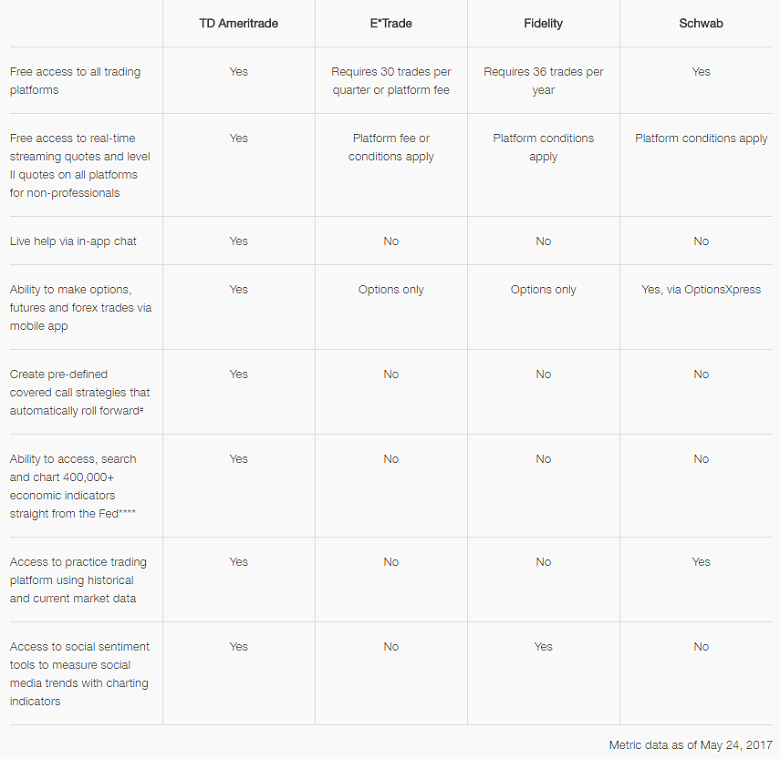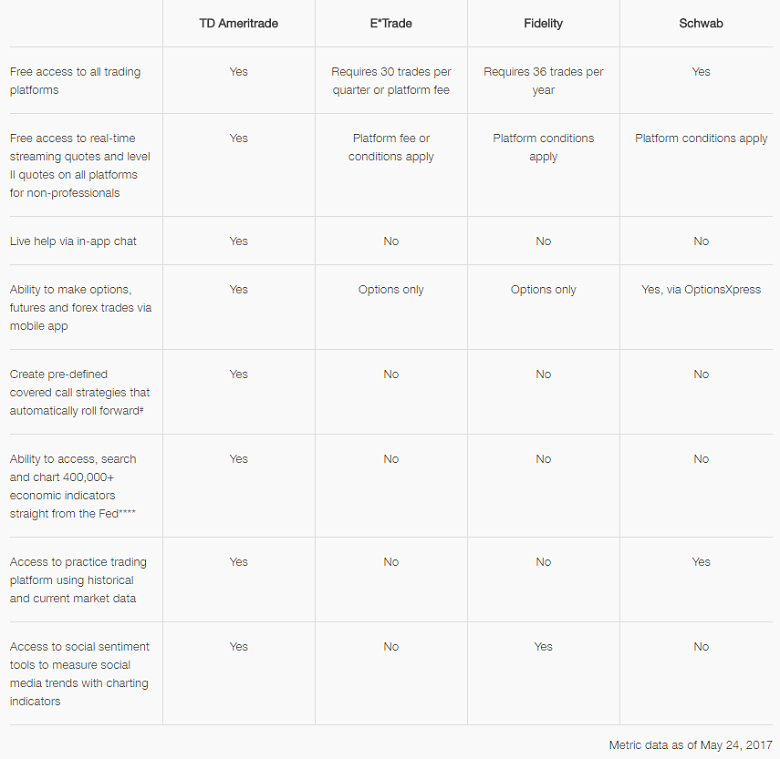 ---
Features That Give You What You Need
---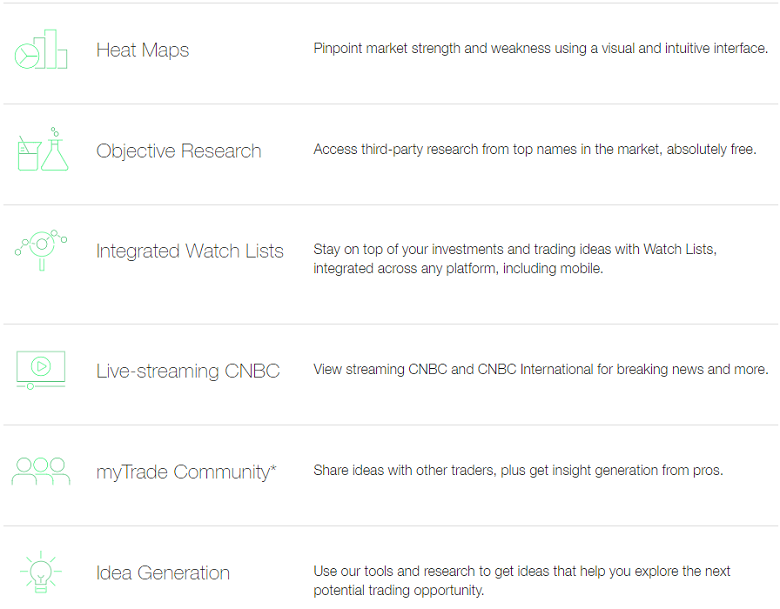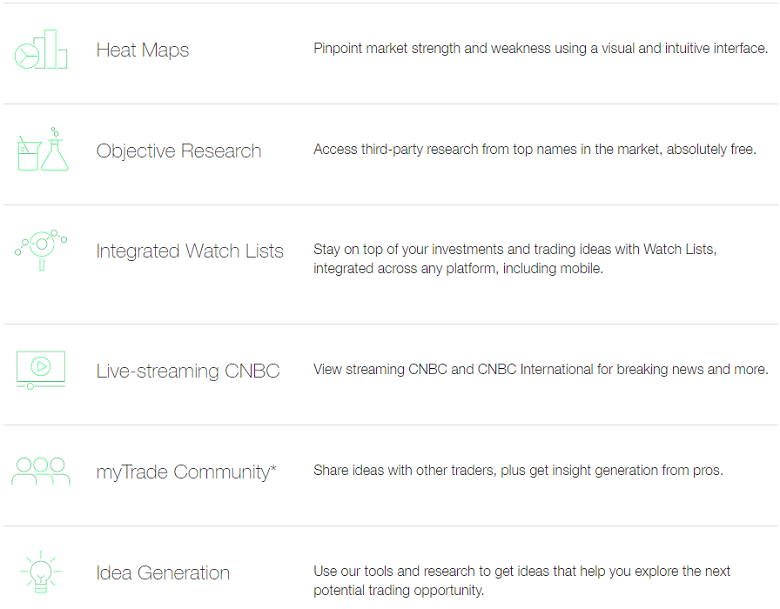 ---
TD Ameritrade Pricing
---


Stocks

Internet $6.95
Interactive Voice Response (IVR) Phone System $34.99
Broker-assisted $44.99
Don't let trading fees eat up your profits. With TD Ameritrade, trade stocks online for $6.95 per trade. That's the price you pay regardless of your account balance or how often you trade. Plus there are no share or market/limit order requirements.

ETFs

Commission-free ETFs
Internet $6.95
Interactive Voice Response (IVR) Phone System $34.99
Broker-assisted $44.99
TD Ameritrade features more than 300 commission-free, non-proprietary ETFs. For all other ETFs, it's only $6.95 to trade ETFs online.

Mutual Funds

No-Transaction-Fee (NTF) (No commission)
No-Load $49.99
Load No commission
TD Ameritrade offers hundreds of no-transaction-fee (NTF) funds from leading fund families. Rather than promoting our own mutual funds, TD Ameritrade has tools and resources that can help you choose mutual funds that match your objectives.

Options

Internet $6.95 + $0.75 fee per contract
Options exercises and assignments $19.99
Interactive Voice Response (IVR) Phone System $34.99 + $0.75 fee per contract
Broker-assisted $44.99 + $0.75 fee per contract
Tied for top star ratings (4 and 1/2stars) in the "Best for Options Traders" category by Barron's*, TD Ameritrade features low, straightforward commissions on option trading. Plus, nickel buyback lets you buy back single order short option positions – for both calls and puts – without any commissions or contract fees if the price is a nickel or less. There is no waiting for expiration.

Fixed Income

You have your choice of offerings ranging from the simplest CD to more complex, structured fixed-income investment at affordable pricing with TD Ameritrade.

Bonds

Treasuries at auction $25 flat fee
All other bonds and CMOs On a net yield basis

CDs

New issue On a net yield basis
Secondary On a net yield basis

UITS

New issue Placement fee from issuer
Secondary Placement fee from issuer

Futures

Futures & Options on Futures $2.25 fee per contract (plus exchange & regulatory fees)
You'll have easy access to a variety of available investments when you trade futures with a TD Ameritrade account, including energy, gold and other metals, interest rates, stock indexes, grains, livestock and more. A transparent Plus Fees pricing structure includes the commission plus the specific exchange and regulatory fees. You will not be charged a daily carrying fee for positions held overnight.
Note: Exchange fees may vary by exchange and by product. Regulatory fees are assessed by the National Futures Association (NFA) and are currently $0.01 per contract. All prices are shown in U.S. Dollars.

Forex Currency

You have more choices in Forex trading with TD Ameritrade, including over 70 different currency pairs and many non-commission currency pairs. See below for pricing and terms regarding commission-based forex pairs, as well as margin requirements.

FX non-commission

Non-commission currency pairs trade in increments of 10,000 units (and do not contain a "#" symbol suffix). The cost of the trade is reflected in wider spreads and TDAFF is compensated by its liquidity provider based on the volume of non-commission pairs.

FX Commission

Commission currency pairs trade in increments of 1,000 units and are subject to a fixed commission structure. The commission is $0.10 per 1,000 units with a minimum charge of $1.00. With the commission charges based on the counter currency, the exact amount may vary slightly due to currency valuations.

FX Margin

As of October 17, 2010, at 5 pm EDT, the maximum leverage on all major currency pairs is 50:1 and 20:1 on all exotic currency pairs
10,000 units USD/CAD (major pair) 50:1 leverage; 200 margin requirement
10,000 units USD/MXN (exotic pair) 20:1 leverage; $500 margin requirement

FX Liquidation Policy – Liquidation of positions will occur:

Once daily for any account with a risk level of less than 100% at 4 am EDT
Intraday if the risk level in the account falls to 25% or below, whichever comes first.
---
Still Have Questions?
---
Get in touch! Call, email 24/7 or visit a branch.
---
Author's Verdict
---
Whether you're a new or experienced in this field, you can score yourself a bonus for opening a new account! Take advantage of these great investment tools & experienced consultants so you can prepare for retirement or earn that extra income for what you really need. Let us know about your thoughts and experience with this offer in the comment section below! Be sure to check back on BankDealGuy for more brokerage deals in addition to our full list of bank promotions!