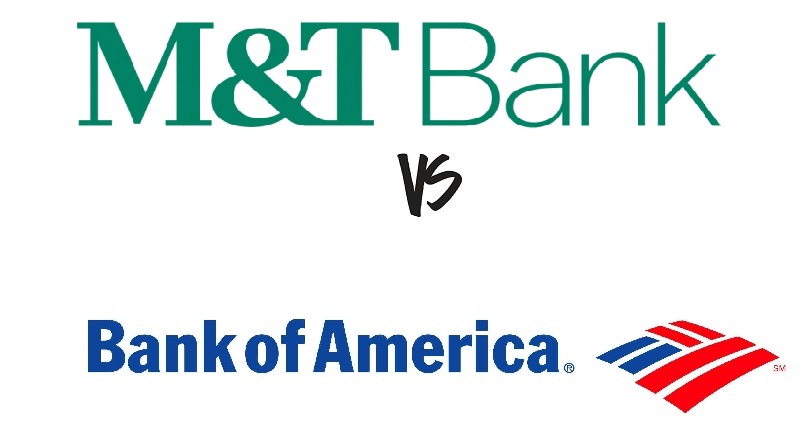 M&T Bank has almost 700 branches across the upper east coast and Florida. Additionally, they have a free checking option and good promo CD rates. On the other hand, Bank of America has over 5,000 locations across the nation, and is one of the largest banks in the US.
Although one is much larger than the other, see how M&T Bank and Bank of America compare with a side-by-side comparison of the accounts they offer and other features at each bank.
Bank of America
M&T Bank
Locations
Over 5,000 locations (Locator)
690 bank branches located throughout New York, New Jersey, Pennsylvania, Maryland, Washington, D.C., Virginia, West Virginia and Florida (Locator)
ATMs
Over 1,800 ATMs
Over 39,000 no-fee Capital One & Allpoint ATMs
Savings
3/5
3/5
CD
2/5
3/5
Checking
2.5/5
4/5
Money Market
NA
3/5
Customer Service
4/5
4/5
Mobile App
4.5/5
3.5/5
Pros
-National availability
-Extended customer service hours
-Full service bank
-Free checking option
-High APY for Promo CD
-Free savings with checking
Cons
-No free checking option
– Low interest rate
-Many miscellaneous banking fees
-Fee heavy
-Subpar savings APY
-Limited branches
Bottom Line
Bank of America operates nationwide offering many account options like checking, savings, and more!
M&T Bank is a great neighborhood bank. If its locations are convenient for you and you aren't looking for top-notch interest rates, you may have found the perfect bank for yourself.
Promotions from Bank of America
CHECKING ACCOUNTSSAVINGS ACCOUNTS
Advantage Plus Banking: With this account, you can write checks and also enroll in overdraft protection. Furthermore, the minimum opening deposit for this setting is $100.
Advantage SafeBalance: With this setting, there are no overdraft fees – you can only spend what you have. Additionally, there are no paper checks.
Relationship Banking: With just $100, you can open an interest-bearing checking account.
Rewards Savings: This account gives you access to tiered interest rates. All you have to do is provide a $100 opening deposit.
Custodial Savings Account: This account is a great option if you want to save for your child but not give him/her access until the age of 18. Once your child turns 18, they will receive access to their funds in the account.
Child Savings: Children under the age of 18 can have access to the account without a monthly service fee. Additionally, this joint account is great to allow your child to be in charge of their money.
M&T Bank Promotions
CHECKING ACCOUNTSSAVINGS ACCOUNTS
MyWay Banking: A checkless account without the worry of overdraft fees
EZChoice: Get the essentials for no monthly maintenance fee
MyChoice Plus: Enjoy ATM surcharge rebates and earn interest.
MyChoice Premium: Exclusive rates on deposits, loans, and more.
MyChoice Money Market: Open a MyChoice Money Market account to take advantage of tiered interest rates1 and avoid a monthly maintenance charge when you maintain $2,500 or more
Relationship Savings: Enjoy convenient online access4 and monitor your account while easily avoiding monthly maintenance charges.
M&T Starter Savings: Is your child or grandchild under 18? Learn about the M&T Starter Savings Account6, where there is no monthly maintenance charge
CDs: CDs can help you earn while you save. Talk to an M&T Relationship Banker about our rate offers.
Conclusion
Bank of America and Citibank are some of the top banking institutions within the U.S. But which is better for you?
In summary:
Bank of America has many account options and their user friendly interface and mobile app is noteworthy.
M&T Bank is a great neighborhood bank. If its locations are convenient for you and you aren't looking for top-notch interest rates, you may have found the perfect bank for yourself.
Also be sure to check out our own lists of bank promotions and CD tables!