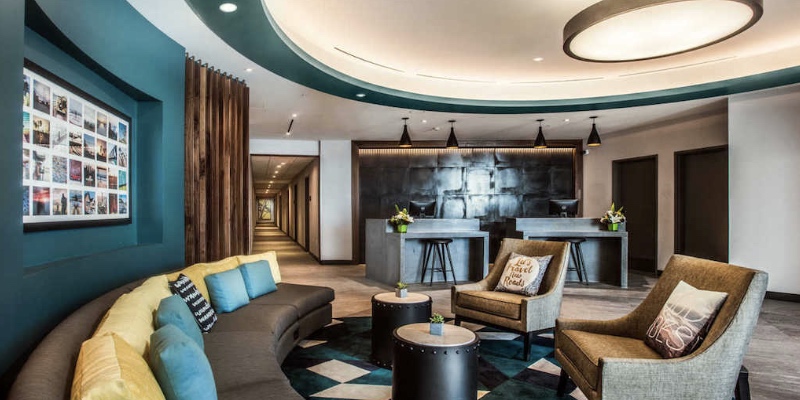 With a Choice Privileges Visa Card, for a limited time, earn 32,000 bonus points after you spend $1,000 on purchases in the first 3 months of account opening (that's up to 4 free nights)! We value these points to be worth around $192.
To add on to the welcome bonus offer, you will earn anniversary bonus points of up to 8,000 bonus points (that's 1 free night a year) when you spend $10,000 or more by your account anniversary date –that's enough to qualify for a free night's stay at more than 1,500 Choice Privileges locations.
For more information about the perks and features this card has to offer, continue to read below.
You can compare Choice Privileges Visa card to other credit card offers.
Choice Privileges Credit Card Summary
Bonus Available
Receive 32,000 bonus points after you make a minimum of $1,000 in purchases in the first 90 days of opening your account.
Bonus Value
$192
Travel Credit
No travel credit
Ongoing Rewards/Benefits
Earn 15 points for each $1 spent on Choice Privileges membership and at participating Choice Hotels locations.

Get 5 points for each $1 spent on Choice Privileges points and gift card purchases.

Receive 2 points for each $1 spent on all other purchases.

Gain 8,000 anniversary bonus points each year when you've spent a minimum of $10,000 on purchases.

Receive a 10% points bonus each time you book a stay with Choice Hotels.

Foreign Transaction Fees?
3%
Elite Status
Elite Gold
Annual Fee
$0
Recommended Free Credit Score
690 – 850 (Good – Excellent)
PROS
No annual fee
Bonus points
Anniversary bonus
10% points bonus
Elite Gold status
Transfer partners
CONS
Good-Excellent credit needed to qualify
Limited redemption options
Low per-point value
Foreign transaction fees
Editor's Alternate Pick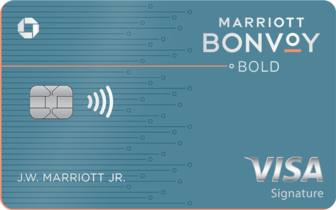 The Marriott Bonvoy Bold offers 60,000 Bonus Points after you spend $2,000 on purchases in the first 3 months from account opening.

This card earns up to 14X total Bonvoy points per $1 spent at over 7,000 hotels participating in Marriott Bonvoy & 2X points for all other travel purchases. You'll receive 1X points per $1 spent on all other purchases.

This card comes with no foreign transaction fees and you'll get 15 elite night credits each calendar year!



Learn More About This Card Here
Choice Privileges Credit Card 32,000 Bonus Points Offer
Take advantage of their introductory offer 32,000 bonus points. We  value of these points would be worth about $192 (more on that below). That would be enough to last about 4 free nights.
In order to qualify, you must charge a minimum of $1,000 to your card in the first 90 days of having your account open to be able to qualify. Here are some ideas on meeting the spending requirements:
Meeting Credit Card Bonus Spending Requirements


• Plastiq - Using Plastiq allows you to pay for your personal expenses such as rent, tuition, mortgage, auto lease etc. Although they charge a 2.5% processing fee for using your credit card, this will contribute to the card bonus that you will receive. There is also a referral program that allows you to earn "Free-Free Dollars" that goes towards processing fees as well.

• Funding Checking Accounts - When it comes to funding a checking account, opening your initial deposit with a credit card is the usual way to go about it. However, if you want to have more opportunities, you should open a checking account that offers a sign-up bonus. This allows you to work towards bonuses from not one but two different sources instead. Banks like Chase, Huntington Bank, TD Bank and BBVA offers credit card funding, and for your opening deposit, you can often fund anywhere from $50-$1000 with a credit card, depending on what bank offers it.

• Gift Card Purchases With Using a Credit Card - Another way to acquire the bonus is using your credit card to purchase gift cards. Buying a a gift card or an individual merchant card typically do not require a purchase fee and are used towards leisure, so gift cards are ideal. However, gift cards such as a Visa or American Express do incur purchase fees because they can be spent anywhere, but gift cards that are specifically for a certain online shopping site such as Amazon or eBay don't.

As for a Citi Credit Card, you should call customer service and ask them to lower your Cash Advance limit to $0 before making any purchases because Citi tends to read gift card purchases as a Cash Advance.

Ideally, you should do this with any card just to be safe. Lastly, there is such thing as a discounted gift card which can be purchased on Raise or eBay. If you use a credit card often for everyday purchases, it can build your credit score that will contribute towards paying for things such as bills and taxes.



Alternative Ways to Meet Spending Requirements
What are Choice Privileges Points Worth?
It depends on how you decide to use your points will reflect their value. The value of a Choice Privileges point would equal about $0.006.Using that figure, 32,000 points would be worth around $192.
Even though there are a lot of hotel rewards that offer similar low point values, the card's high earning rate for Choice Hotel investments are definitely worth it.
Your Choice Privileges points can be used for:
Stays at Choice hotels, resorts or vacation homes
Gift cards
Magazine subscriptions
Charity donations
You can even use your points for:
Exchanging for miles with partnered airline loyalty programs (more on that below)
Trading for Amtrak Guest Rewards points
Redeeming for credit on 20+ cruise lines
However, you will be able to receive the best value for your points if you use them towards Choice Hotels.
Choice Hotel Stay Categories
Diving into the details of this credit card, it is important to note that the 15X points that you can earn spent at Choice Privileges locations is a bit misleading. I say this because whether or not you have this card, you will earn 10 points for being a member of their loyalty program. For the actual card itself, you will get an additional 5 points per $1 spent. So if you hone in on just the credit card benefits, you will see that it makes a bit of a difference since consumers could still earn the 10 of the 15 points using a different rewards cards rather than this one. Make sure read the fine print!
But aside from that, you can buy additional points or Choice Hotels gift cards and get 5x points per dollar. All other purchases are worth 2x points.
The Choice Privileges program also works like most loyalty programs. You can redeem points for complimentary nights, upgrades, and a variety of other rewards.
The points don't expire as long as they are used every 18 months. There's no limit to how many points you can earn and no blackout dates either!
Be sure to visit BankDealGuy to explore the best credit cards related to hotel stay categories.
Choice Hotel Properties
| | | |
| --- | --- | --- |
| Ascend Hotel Collection | Cambria Hotels | Clarion |
| Comfort Inn | Comfort Suitts | Econo Lodge |
| MainStay Suites | Quality | Rodeway Inn |
| Sleep Inn | Suburban | |
Choice Privileges Visa Card Top Features
Earn 32,000 bonus points after you spend $1,000 on purchases in the 3 months after account opening
8,000 anniversary bonus points every year you spend $10,000 or more on purchases by your account anniversary date
15 points per $1 spent at eligible Choice Privileges locations with your Choice Privileges Visa Signature Card and Choice Privileges membership
5 points per $1 spent on eligible purchases of Choice Privileges points or Choice Hotels gift cards
2 points per $1 spent on everyday purchases
Book free nights 50 days in advance (instead of 30 days)
Get a 10% Points Bonus every time you purchase a stay with Choice Hotels
No annual fee
Author's Verdict
The Choice Privileges Visa Card is quite a popular choice among travelers. There are more than 6,300 hotels and resorts to choose from in over 35 countries. Like most loyalty programs, with Choice Privileges, you are eligible to receive points for upgrades, complimentary nights, and other common rewards.
While there is no limit on how many points you can earn, keep in mind that points will not expire as long as you use them every 18 months. Also, when seeking credit card offers, a drawback feature of this card might be not being able to have too much flexibility with how you can redeem your points. You're limited to only Choice Brand hotels and resorts.
But overall, the Choice Privileges Visa Card offers more pros than cons for travelers it seems. Aside from earning 15 points per dollar for staying at Choice hotels, 10% bonus points every time you purchase a stay at one of the hotels, and up to 8,000 anniversary bonus points is enough value given from this card — not to mention there's no annual fee!
Provide feedback in the comment section below by telling us your thoughts and experience with this card. Make sure to visit BankDealGuy to explore more credit card bonuses.
(Visit Choice Privileges for more information)
---
Alternative Credit Card Options
* Below are some of the top competitors to the Choice Privileges Credit Card  to consider.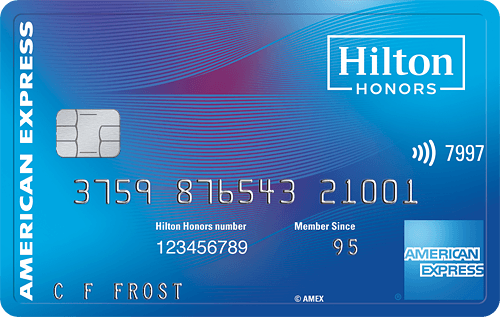 The Hilton Honors American Express Card offers 80,000 Hilton Honors Bonus Points after you spend $1,000 in purchases on the Hilton Honors American Express Card in the first 3 months of Card Membership. Plus, you can earn an additional 50,000 Hilton Honors Bonus Points after you spend a total of $5,000 in purchases on the Card in the first 6 months.

You'll have the opportunity to earn 7X Hilton Honors Bonus Points for each dollar of eligible purchases charged directly with a hotel or resort within the Hilton Honors portfolio of brands., 5X Hilton Honors Bonus Points for each dollar of eligible purchases at U.S. restaurants, U.S. supermarkets, and U.S. gas stations, & 3X Hilton Honors Bonus Points for all other eligible purchases on your Card.

This card comes with annual fee and no foreign transaction fees, so you can enjoy international travel without additional fees on purchases made abroad. (See Rates & Fees)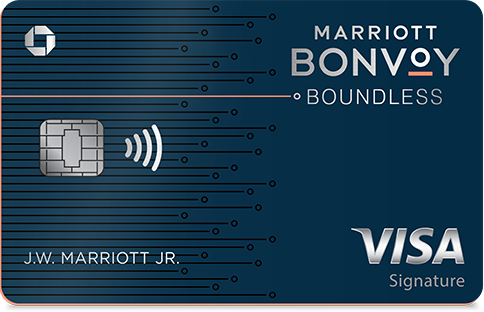 The Marriott Bonvoy Boundless Credit Card offers 125,000 Bonus Points and 1 Free Night Award (value up to 50,000 points) after you spend $5,000 on purchases in the first 3 months from account opening.

You'll earn up to 17X total Bonvoy points per $1 spent at over 7,000 hotels participating in Marriott Bonvoy & 2X Bonvoy points for every $1 spent on all other purchases.

You gain an automatic Silver Elite Status each account anniversary year. Path to Gold Status when you spend $35,000 on purchases each account year.

You'll receive 15 Elite Night Credits each calendar year & an additional Free Night Award (valued up to 35,000 points) every year after account anniversary.

This card does carry a $95 fee; there are no foreign transaction fees.



Learn More About This Card