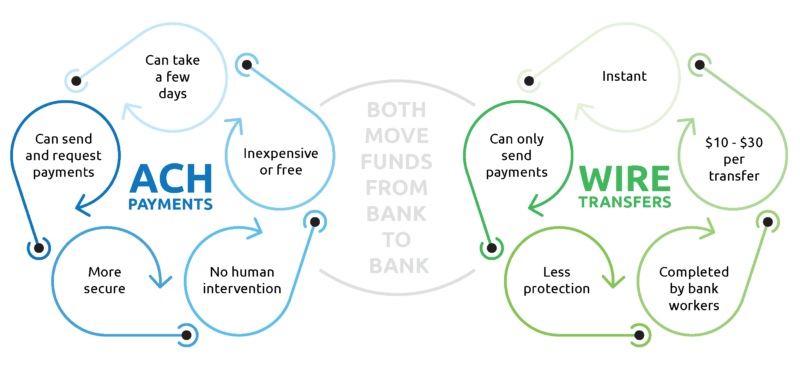 Time-in, Time-Out, you may stumble upon a feature in your online banking account that comes across as a "Wire Transfer" or a "ACH Deposit." Both these methods have their own purpose in designating money to the right place but there's a significant difference in terms of the time it takes for a transfer to occur; If you want more reassurance that your money is going to be here on time, then your best bets with paying the necessary wire transfer fee.
You can move money electronically in several different ways. Two of the most popular and well-established choices include ACH transfers and wire transfers, but these methods sometimes get confused. It's helpful to understand the pros and cons of each option so you choose the right one the next time you need to move money.
Below, you can find the best free business checking accounts that we've researched and gathered for your convenience. You can also see our list of business bank account promotions for sign-up bonuses and reviews!
What is a Wire Transfer?
Wire transfers are used to transfer funds directly from one bank account to another often requiring only an account and routing number. It does not have the cross-border payment limitation that ACH does, in that you can send funds to a bank outside the United States. Wire transfers move funds from one bank to another within one business day, and the money can even be available for spending that same day.
It is a direct bank-to-bank transaction that allows you to move money from your account directly into the account of someone else. This transfer is conducted as part of an agreement set up between banks that establishes guidelines and allows for such transfers to take place.
Fees aside, another drawback is that once funds have been wired, because of the immediacy, recalling erroneous transactions is much more difficult, involving bank investigations and service fees.
What is a ACH?
An ACH transfer is the electronic movement of money between banks through the Automated Clearing House network, one of the biggest U.S. payment systems.
ACH stands for Automated Clearinghouse (not to be confused with Publishers Clearing House), a network of banks that are batching transactions between them.It is also known as "direct deposit." For example, when you are enrolled in automatic bill-pay, whether it be for a credit card or an insurance payment, often an ACH transfer is being used. ACH transfers are generally done in groups or batches and can take anywhere from a few hours to several days to be completed.
These types of transactions can be quite convenient and are the type utilized when when you use online bill pay, and often when you use your debit card.
Differences Between ACH and Wire Transfers
A Wire Transfer is an individual bank to bank process that is usually more expensive than an automated clearing house. If you want more reassurance that your money is going to arrive on time, then a Wire transfer may be something to look into, otherwise, I recommend that you consider ACH Transfers because there's much less fees, sometimes none at all, and they're much more convenient with much less involvement by individuals at financial institutions. Keep in mind that ACH Transfers do take longer than Wire Transfers because your transaction will be ran as a batch through a clearing house prior to going to the receiving end. Also, be aware that with both cases, there is a possibility for errors.
During ACH transfers, information is sent in a batch to the automated clearinghouse, which clears the payments through and then sends them onto the bank. In this sense, the clearinghouse is essentially the middleman in this process.
Wire transfers also transfer funds from one account to a another, but instead of the ACH, banks are acting as middlemen.
What are the Risks?
Wire transfers and ACHs are considered secure transactions, especially if you are receiving one. They are difficult, sometimes downright impossible, to reverse.
Scams

We've all experienced suspicious phone calls or emails, and they are more evident when they urge you to make a quick decision. If they claim to be an authority figure like the government or a state official, offer to call them back at an official number, not the one they give you.

Account Takeover

When someone takes control of your account, they generally get a hold of your information by stealing your identity or through email phishing.

Impersonation

Criminals will try to impersonate real vendors to try and get you to give them your personal information. They may send a letter or an email to inform you of an overdue payment, but the instructions may lead you to send your money to a fraudulent account.

Emails

As we mentioned above, criminals may try to send you instructions to pay off any debts through your email that leads to a fraudulent account. Always call the person or institution to make sure before sending any money.
Author's Verdict
Overall, both are acceptable forms of money transfers. Typically, ACH are the best forms of payments and are more commonly used for bill payments, payroll, or any form of recurring payments. Being both convenient and inexpensive, it makes sense to wait those few extra days for a secured transfer. Also be sure to check out our own lists of bank promotions and CD tables!
Other Bank Bonuses You May Like


• Chase Bank Bonuses. Chase usually offers the most sign-up bonuses out of all the big banks. Read up and enjoy several promotions for their Checking, Savings and Business accounts.
• HSBC Bank Bonuses. HSBC has some big value offers available for their Checking accounts. Some require hefty deposits to qualify. They also have an online Savings account offering a very competitive rate.
• Huntington Bank Bonuses. Huntington has Consumer Checking and Business Checking accounts available throughout the year.
• Discover Bank Bonuses. As an online bank, Discover offers high and competitive rates on their Savings, CD, and Money Market accounts. Enjoy excellent customer service nationwide.
• TD Bank Bonuses. TD Bank consistently offers great Checking account bonuses all year long. Savings account offers are less frequently available.