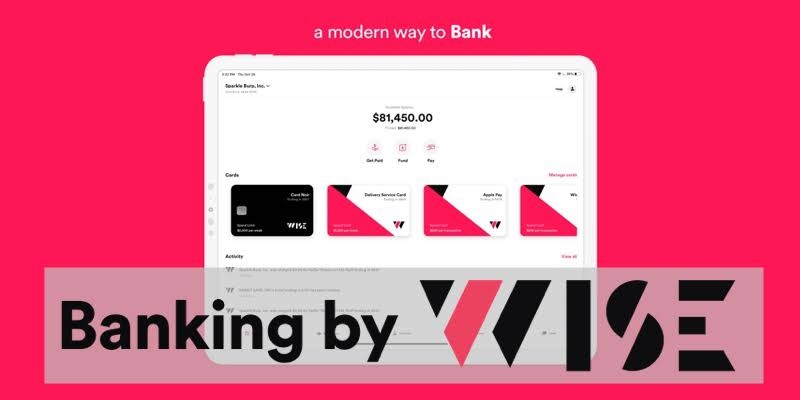 Wise.us is currently offering a give $100 credit  promotion & up to 1% checking.
To find out if Wise Business Banking is a good fit for your enterprise, keep reading.
Be sure to check out these other business bonuses, they also have bonuses for BBVA, Chase Business, and Bluevine!
---
Wise Business Banking $100 Sign Up Credit
What you'll get: $100 bonus
Where it's available: Online Nationwide
How to earn it:

Get a $100 credit in your Wise account when you sign up and spend $1000 on your Wise card the first 30 days.
The Wise card is the black commercial physical or the colored virtual card included in your account.

When it expires: None
For other business checking accounts, take a look at our Chase Business Checking ($300 Bonus), Huntington Unlimited Plus Business Checking ($750 Bonus), Huntington Unlimited Business Checking ($400 Bonus), as well as the Huntington Business Checking 100 ($200 Bonus)
---
Wise Business Banking Features
Wise was launched in 2019 and is backed by BBVA. Their Business Banking only offers one account option: a digital-based business checking account, which you can open quickly and easily online or via their mobile app.
All of Wise Business Banking features below:
Wise Pay
One of top features of the Wise Business Banking account is Wise Pay. This is their integrated invoicing and payments platform that allows you to receive payments as well as pay your employees, contractors and vendors.
To receive payments:
Creater and send invoices via the Wise app
Accept payments by card or ACH transfer
Use a Wise card reader to accept in-person payments
To send payments
Use the mobile app to mail a check
Send an ACH transfer or use Instant by Wise

Allows you to send money directly from your Wise account to the recipient's bank account, as long as they have a debit card based in the U.S.
Cash Back Incentive
Wise will pay a cash back incentive on your deposits, up to 1% annually every month. You automatically qualify to earn a 0.5% annual incentive on your deposits.
You also can qualify for an additional 0.1% each year for every $1,000 spent monthly on Wise Cards, up to a maximum of 0.5% annually if you spend at least $5,000 a month.
Debit Card & ATM Access
The Wise Business Banking account comes with a business debit card, this allows you to withdraw cash at any Allpoint ATM for free. All physical and virtual Wise cards have spending controls, real-time notifications, and Google Pay support.
Customer Support
Once you register for a Wise account, you will be able to access your account within 24 hours. They provide a 30-minute training video with a professional, as well as live chat support 24/7.
Other Features
You can also find the following additional features when you sign up with Wise:
A dashboard to track your spending, monitor cash flow and instantly pay employees and vendors.
Add and manage contacts, making it even easier to pay employees and vendors on a regular basis, as well as view payment history based on an individual contact.
Everything is accessible via the mobile app, available for both iOS and Android devices.
Other Business Accounts Choices
Chase Business Checking®Huntington Unlimited Plus Business CheckingHuntington Unlimited Business CheckingHuntington Business Checking 100
Author's Verdict
The Wise $100 Promotion & Up To 1% Checking is a simple way to earn by opening a new checking or savings account. This promotion may expire at any time so sign up if it interests you.
Additionally, you can find a full list of the best bank promotions here. Finally, remember to bookmark this page because you will always find an updated list of Wise promotions here.