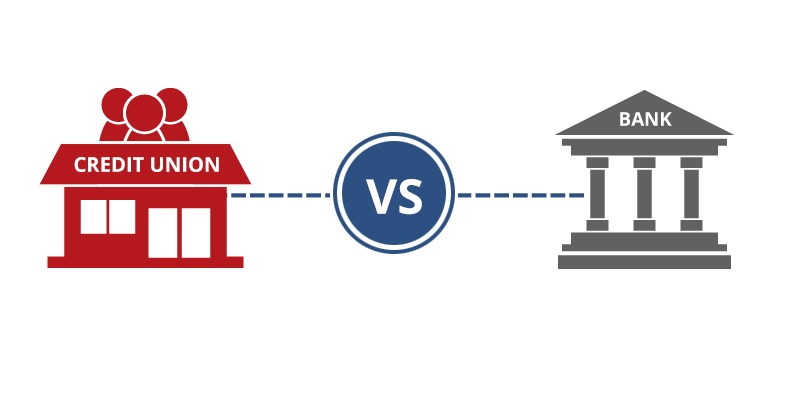 When choosing where to story your funds and savings, you might think that a bank will have the best rates, however this is not always the case.
Here are some reasons why you should consider opening an account with a credit union instead.
What is a Credit Union?
Credit unions are financial institutions that is not for profit. They offer your normal banking products such as checking and savings accounts, money market accounts, loans, and even credit cards.
In addition, credit unions are owned by their members, This allows them to offer above average rates for their products.
One thing to note is that credit union requires membership eligibility which are dependent on one of a few factors: who you're employed by, where you live, or a group you belong to. Eligibility requirements should be found on the field of membership section.
Why Should I Join a Credit Union?
Listed below, are five reasons to consider switching to a Credit Union:
Credit Unions are Committed To Their Communities
Because credit unions are owned by members and not investors, members can earn great rates! Instead of passing off profits to investors, credit unions usually invest extra funds into charities or back into the cooperative itself. By improving the credit union's technology, accessibility, or other factors, they can offer members a better banking experience with better rates.
Credit Unions Offer The Same Things as Bank
Credit Unions offer the same financial products at bank. Typically, you can find the follow accounts at most financial institutions.
Savings accounts
IRAs
Money market accounts
Share certificates (which pay dividends)
Loans (auto, real estate, student, personal)
Credit cards, and more
If you're still on the fence about credit unions, the next point might motivate you to make the switch.
Credit Unions Have Better Interest Rates
In addition to helping the community, credit unions are known for offering some of the best interest rates on the market. Credit unions not only offer better rates on investment products, but charge cheaper rates on loans and credit cards.
Credit unions are able to offer great rates because they're not-for-profit. This allows credit unions to not depend as heavily on generating revenue in the same way that banks do.
Credit Unions Offer The Same Features as Bank
There are some essential features that we expect when banking such as 24/7 access to ATMs, foreign currency exchange, and mobile apps.
Credit Unions typically offer all the features you could need and even sometimes have better customer service.
Many, if not most, credit unions also offer:
Identity theft protection
Financial education workshops
Notary public services
Mobile banking apps
Foreign currency exchange and purchase
Custom financial counseling
Coin redemption machines
Tax preparation services
Local discounts
Credit Unions Offer The Same Financial Protection
Most banks offer FDIC protections. This means that if the bank were to go under, your funds would be covered up to $250,000 by the Federal Deposit Insurance Corporation (or FDIC).
Credit unions are not subject to FDIC protections, but they have their own government agency that regulates and insures all federally charted credit unions: The National Credit Union Administration.
Like the FDIC, the NCUA insures your funds up to $250,000 if the credit union were to fail (excluding investment accounts, just like the FDIC.
How to Join a Credit Union
Here are the steps to join a credit union:
Check (and satisfy) the eligibility requirements
Bring a little cash (or check, or your debit card) to make your first deposit
Fill out the application, either online or in-person
After filling that out and making your initial deposit, you're pretty much good to go.
Conclusion
Credit Unions are great options when looking at financial institutions. However, before joining, be sure to consider all other banks and rates to take advantage of the best offers.
Let us know in the comment section below if it did! If you don't have a savings account, see our best savings account section. Looking to add a little extra income each year? If so, see our list of the best bank deals!