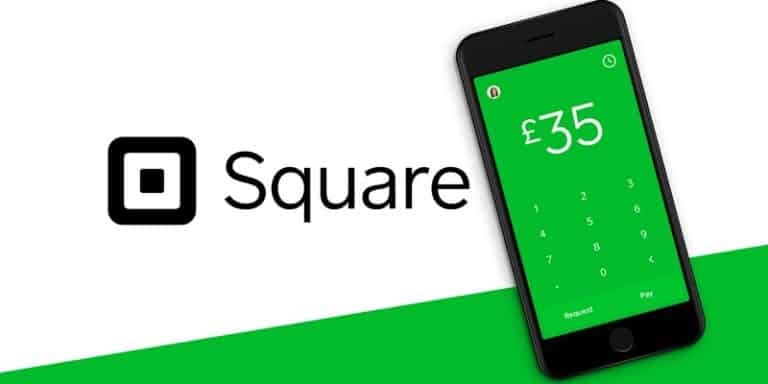 Find updated promotions and bonuses from Cash App (formerly Square Cash) here. They are  currently offering a $5 sign up bonus and unlimited $5 referral bonuses. Find other referral offers here.
Cash App is a P2P payment service that is similar to Venmo. It allows you to pay and request money from people you know. It's free, so long as you don't choose to fund the transfer with your credit card. You can also buy and sell bitcoin with the Cash App now.
Find other good offers from Chase Bank, TD Bank, HSBC Bank, and more! See a full list of bank promotions here.
Read on to learn more about Cash App and its features, benefits and possible drawbacks.
What is Cash App?
Cash App is a peer-to-peer money transfer service developed by Square Inc. that allows users to send and receive money. This service can help you send utility payments to your roommates, pay friends back for coffee, split the cost of a trip or any other money-sending task you want to accomplish with other Cash App users. Cash App also functions similarly to a bank account, giving users a debit card — called a "Cash Card" — that allows them to make purchases using the funds in their Cash App account. The app also allows users to invest their money in stocks and buy and sell bitcoin.
How do you send and receive money with Cash App?
Start by downloading Cash App on your smartphone. The app will walk you through enrollment, where you'll create a user account and link at least one bank account. You'll be able to use that bank account to send money to other Cash App users as well as to transfer money from your Cash App account into your bank account. This is similar to services like Venmo and PayPal, which also allow you to link a bank account to send money; you can also hold any received funds in the app until you're ready to withdraw them.
To send a payment:
Open the Cash App mobile app.
Enter the amount you want to send.
Tap "Pay."
Enter the email address, phone number or "$Cashtag" (another person's username in the app).
Enter what you are sending the payment for.
Tap "Pay."
To view the details of a received payment, tap the "Activity" button. You'll also see the money deposited into your Cash App account on the "My Cash" button, which keeps a running total of your deposited funds.
---
Cash App $5 Sign-Up Bonus

Earn a $5 bonus when you download the Cash App, register a new account, and send your first $5. You'll need to use a current member's referral link for the offer.
We have a referral link (referral code is BSXGPJH) below you can use. Thank you ahead of time!
(Sign-up above)
How To Earn The $5 Bonus
Download the Cash App.
Enter your phone number to register
Link your debit card to Cash App.
Open the app and tap the Settings icon at the top-left corner.
Scroll to the bottom of the Settings page and tap the "Referral Code" field.
Enter the referral code "SNTGQWX" to apply your $5 bonus.
Send $5, either as a lump sum or multiple payments, within 14 days of entering the code.
Get your $5 bonus.
Cash App $5 Referral Offer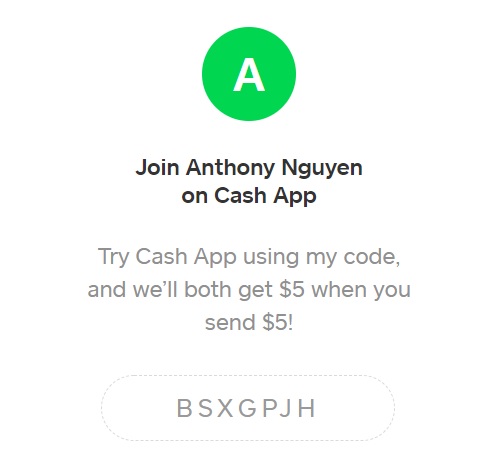 For every successful referral, Cash App will give both you and your referral a $5 bonus each. You must have a Cash App account in order to participate.
How To Earn Referral Bonuses
Open the Cash App and tap on "Invite Friends".
Enter your friend's phone number or email to send them a referral.
Earn a $5 credit when your referral downloads the Cash App, connects a debit card and sends $5.
There's no limited on how many referral bonuses you can earn.
Current Cash App users are welcome to leave referral details in the comments section below.
Cash App Up to $50 w/ Direct Deposit (Targeted)

Get up to $50 back when you receive a $300 direct deposit through Cash app. This targeted offer is sent out to selected users where they can get:
$10 back with $10 purchase anywhere
$20 back with $20 purchase anywhere
$30 back with $30 purchase anywhere
$50 back with $50 purchase anywhere
Cash App Get $30 Off Card Purchase w/ Direct Deposit
CashApp is offering you $30 off Cash Card purchase when you setup direct deposit and receive $300+ in paychecks in a given month.
Author's Verdict
The CashApp promotion is a great offer and they have unlimited referrals.
Additionally, you can find a full list of the best bank promotions here. Remember to bookmark this page for an updated list of CashApp promotions!