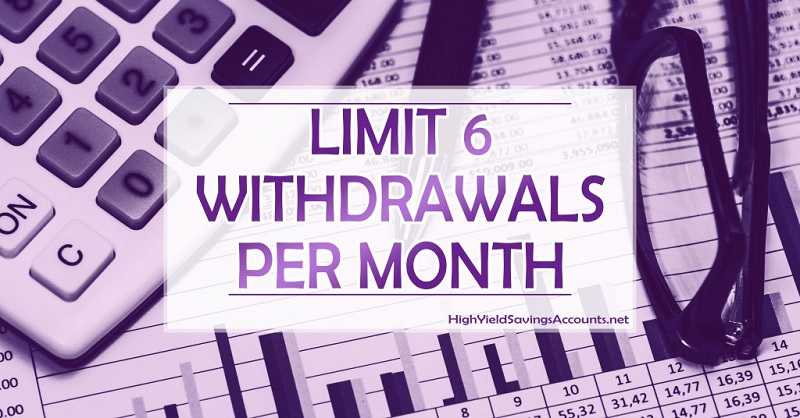 If you move money around in your accounts frequently, you are at risk for suffering a transaction limit penalty at some point. Savings accounts are an easy place to stash your cash, but a federal rule called Regulation D puts limits on withdrawals.
Generally you are limited to just six (6) transfers out of a savings account each billing cycle.
Below, you can find out why your savings account has a 6 ACH Transfer limit. You can also see our list of checking account promotions for sign-up bonuses and reviews!
Why Does This Six Transfer Limit Exist?
The federal rule, also known as Reg D, comes from the Federal Reserve Board and puts a limit of six transactions per month on certain transfers and withdrawals from your savings or money market account.
The rules exist to satisfy the requirements of the Federal Reserve. These rules require banks to have a certain amount of money in their vaults, on different accounts. They are updated every year depending on the Federal Reserve, so there is no consistent rule on transfers.
What Counts/Doesn't Count as a Transfer
Anything that may be counted as "convenient" will count towards this limit of six. Here are some things that are under this category:
Online transfers from those accounts to a different account either at the same institution or a different one
Transfers processed over the phone
Automatic or pre-authorized transfers, such as bill payments or any other recurring transfers
Overdraft transfers from your savings account to your checking account
Transfers made by check or debit card
The following don't count toward the six-transaction limit:
Withdrawals or transfers made at ATMs
Transactions made in person at a bank
Withdrawals made by telephone if the check is mailed to the depositor
How to Get Around This Limit
The consequences of going over the Regulation D limit depend on your financial institution. An easy way to get around this limit is to make a bigger, but fewer transfers. That way, you don't hit the six transfer limit.
The other way around it is to make "unlimited withdrawals by mail, messenger, ATM, in person, or by telephone (via check mailed to the depositor)." These types of transactions don't count as convenient, so they don't count towards the limit.
If your checking account has overdraft protection linked to a savings account, try to avoid overdrafts, which would be counted under the six-transaction Reg D limit.
Set up low-balance alerts on your checking account and curb your spending if your balance edges to zero to avoid triggering automatic transfers from your savings to checking account.
Author's Verdict
The fee is there to help you keep your savings in check. They are your savings after all, so you shouldn't be taking too much money out of the account anyways. Hopefully this guides helps you better understand why your savings account has a limit!
Also be sure to check out our own lists of bank promotions and CD tables!