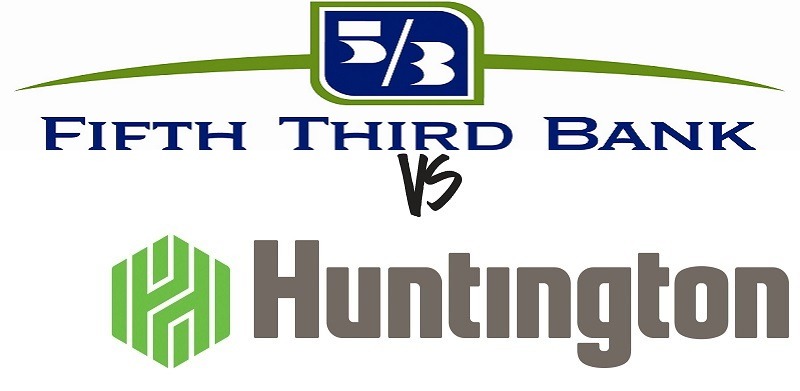 Huntington Bank offers a wide selection of both personal and business accounts, allowing you to select a banking experience that's catered towards your unique banking needs.
With nearly 1,000 branches and over 1,800 ATMs in the Midwestern states, you are able to take advantage of fantastic interest-bearing accounts as well!
However, how does Huntington compare to Fifth Third Bank?
Comparatively, Fifth Third Bank offers high promotional CDs and APYs, spread across a wide variety of account lengths.
With over 1,300 branches across the nation, you can definitely count on the bank for the best customer service and personalized care.
To learn more, be sure to continue reading for an in-depth side-by-side comparison.
Huntington Bank
Fifth Third Bank
Locations
Nearly 1,000 branches (Locator)
1,300 branches, including 100 Bank Mart® locations across the country

(Locator)

ATMs
Over 1,800 ATMs
Allpoint® and 7-Eleven® network of ATMs. More than 50,000 fee-free ATMs nationwide.
Savings
3.6/5
2/5
CD
4/5
4/5
Checking
4.6/5
3/5
Money Market
3/5
2.5/5
Customer Service
5/5
4/5
Mobile App
3.6/5
4.5/5
Pros
-Free checking option
-24-hr grace for overdrafts
-All day deposit
-24-hr customer service
-Free Express Checking
-Free student checking
-Promo CD with high APY
Cons
-Limited branches
-Low savings APY
-Higher balance requirements
-Low savings APY
-Limited branches
Bottom Line
Huntington offers great account benefits and offers a great free checking account option.
Midwest & Southwest bank with high balance requirements but offers good checking options.
Huntington Bank Promotions
Huntington Platinum Perks CheckingSMHuntington Unlimited Plus Business Checking AccountHuntington Unlimited Business Checking AccountHuntington Business Checking 100 Account
Fifth Third Bank Promotions
Checking: Fifth Third Bank is currently offering checking account options for you to choose from. Each checking account comes with a debit card and access to online/mobile banking.
Essential Checking: This interest-bearing checking account offers several ways to waive the monthly service fee. You'll need a minimum $1,500 balance across your deposit accounts at Fifth Third, spend a minimum of $500 monthly on a Fifth Third Credit Card, or have a Fifth Third loan.
Enhanced Checking: If you have a combined balance of $20,000 on deposit at Fifth Third Bank, you'll have access to unlimited check writing and a secondary checking account.
Preferred Checking: You get access to unlimited check writing, a secondary checking account, and free access to Fifth Third Identity Alert
Student Banking: Students over the age of 13 will gain access to an account without a minimum balance as well as five free non-Fifth Third ATM transactions per month.
Savings: With a unique array of savings options, you can definitely find one that fits your savings needs.
Goal Setter Savings: Perfect for those who have a savings goal. The account rewards you for reaching a financial goal with this account.
Relationship Savings: You will be eligible for this higher interest rate account if you have a Fifth Third Checking Account.
Relationship Money Market: You will need a significant amount of money to deposit for this account. You'll earn tiered interest rates on this account, which means the more you have on deposit, the higher the interest rates you earn.
Conclusion
In conclusion, Huntington Bank and Fifth Third Bank both offer fantastic features, service and care for their customers. With a range of checking, savings as well as money market options, you will definitely find an account to personalize your banking experience.
For more variety of options, see our list of the best bank account bonuses & savings account offers.