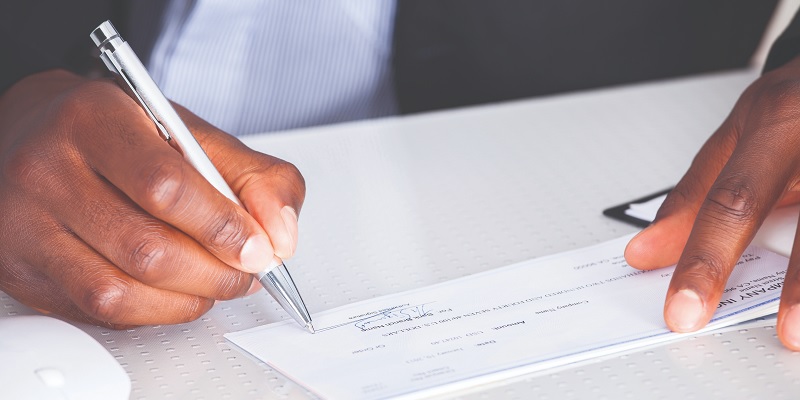 When someone writes you a check, you must endorse it to access the money that's written out to you. Signing the back of the check endorses it, which allows you to cash the check or deposit it into your bank account.
Check endorsements allow people and banks to specify methods of deposit. Learn how to endorse a check correctly to prevent fraud or any other issues with your deposits.
---
What is the Correct Way to Endorse a Check?
The correct way to endorse a check depends on how the check is written and what you are planning to do with it. The general steps to endorsing a check are:
Wait until you're ready to deposit or cash the check.
Turn the check to the back side.
Find the box near the top that says "Endorse Here."
Sign your name on the top line.
This is called a blank endorsement. Keep in mind that you shouldn't sign the check until immediately before you deposit it because once it's endorsed, anyone can cash it. Although banks and credit unions usually only cash and deposit checks presented by the account holder, it's best to be safe.
---
How To Endorse A Check For Deposit Only
Endorsing a check for deposit only restricts the ability to cash it, which is called a restrictive endorsement. This method is more secure than a blank endorsement because it limits what can be done with the check.
To endorse a check for deposit only:
Flip the check over to the back side.
On the top lines, write "For deposit only to account number XXXXXXX."
Sign your name on the next line.
Be sure you sign within the endorsement box. You'll see a line on your check that says, "Do not sign, write, stamp below this line." Anything you write should be above that line.
---
Do You Have To Sign the Back of a Check To Deposit It?
You might be wondering if you can deposit a check without endorsing it. Some banks accept checks that haven't been endorsed. However, it varies by bank so be sure to check with yours first to see if they limit the amount they will accept without an endorsement. Furthermore, it might also hold the funds longer to ensure the check goes through. For your own security, it's generally best to endorse your checks.
---
What Happens If You Deposit a Check Without Endorsing It?
What happens if you forget to endorse a check? The result will depend on your bank's policies and the origin of the check. Your bank might endorse it for you or it might reject the check and return it to you so you can endorse it and deposit it again.
If you do forget to endorse a check, your best option is to contact your bank and ask how you should proceed.
---
Author's Verdict
Endorsing a check is rather simple, however there are some nit-picky aspects of it. Hopefully you are informed on how to endorse a check and what you should do if you forget.
In addition, we have a list of bank promotions to get some extra cash in your pockets today. You may also want to check out savings accounts if you want to get started on saving up money.