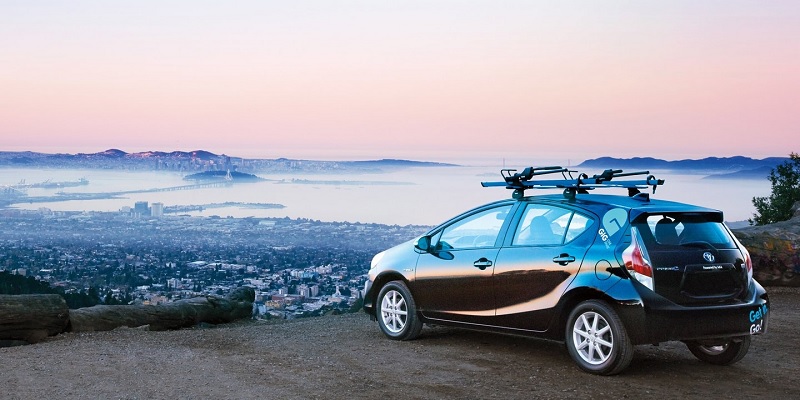 You can get $15 – $25 bonus credit when you sign up for GIG Car Share using a referral link. Additionally, you can save 10% on every GIG trip if you're an AAA member. Also, you can receive a $15 – $25 bonus credit for each person you refer.
GIG is a one-way car sharing service in the San Francisco Bay Area and Sacramento. It's similar to Enterprise CarShare and Zipcar, however it is different than traditional car sharing services because you don't have to return your GIG car where you picked it up.
Continue reading to learn more about GIG Car Share and their current bonuses.
---
GIG Car Share $25 Welcome Bonus
When you use a referral link to sign up, you can get $15 – $25 in driving credits, which can be used for your first or consecutive trips, depending on the amount. The credits will expire 90 days after their award date.
---
GIG Car Share $25 Referral Credits
For every person you refer, you will get $15 – $25 in driving credits when they take their first GIG trip. The person you refer will also get driving credits.
Each year, you are able to receive up to $500 in referral bonuses. Simply go to the app, click on "Free Rides" in the menu and share your personal link.
See the referral program terms.
---
If you are an AAA member, you can get 10% off every GIG trip. All you need to do is call Member Support to get the discount. If you're not an AAA member, you can join by clicking here.
---
GIG stands for "Get In, Go." You can use the app to easily book a rental car and unlock it. This is how it works:
Use the GIG app to find available cars within the HomeZone, an approved area for picking up and dropping off GIG cars. Or, walk up to a GIG car on the street. If the windshield light is green, it's available.
Once you book a car, you have 30 minutes to unlock it before it becomes available again to other GIG users.
Unlock the car with your phone. After your first trip, you'll get a GIG Card mailed to you. It's got a unique RFID chip in it that can also unlock GIG cars.
Inspect the car and report any dings, dents or damage via the app.
Get in, and go. There's no key. Simply put your foot on the brake, push the "Power" button and drive. Go anywhere you want within the United States. If you want to make a stop without giving up the car, choose "Stopover" in the app.
Return the car to any GIG-approved parking space within the HomeZone.
---
You only have to pay for what you use. GIG will do the math and figure out the lowest rate for you.
Fuel, insurance and parking are included.
BAY AREA
SACRAMENTO
ADDITIONAL FEES
Bay Area GIGs are hybrid cars.
Per Mile
$2.50 (up to $15)
Per Hour
$15/hr
$55/8 hrs
Per Day
$85/Saturday or Sunday
$69/Monday to Friday at 4pm
Sacramento GIGs are electric cars.
| | |
| --- | --- |
| Per Minute | $0.40 (up to $15) |
| Per Hour | $15 (up to $85) |
| Per Day | $85, everyday |
Park and come back on short trips less than hour. $0.30/minute
Surcharge over 250 miles per trip. $0.45/mile
Every GIG car is registered with FasTrak. Tolls are automatically billed to your account the following month.
Lost car documents or materials. $20
Declined credit card fee. $25
Excessive cleaning. $100
Smoking in car. $100
Unauthorized parking. $100
Towed cars. $150 + tow fees
Unlocked car. $100
Drained battery. $100
Unauthorized use of car by third party. $150
Abandoned car. $50 + $5/mile outside of HomeZone
Parking and driving violation tickets. Face value of tickets.
All fees are subject to a $25 processing fee and applicable taxes.
---
Author's Verdict
If you live in the Bay Area or Sacramento, check out GIG Car Share if you ever need to rent a car. All GIG cars are eco-friendly, membership is free, and you only pay for what you use.
In addition, we have a list of bank promotions to get some extra cash in your pockets today. You may also want to check out savings accounts if you want to get started on saving up money.