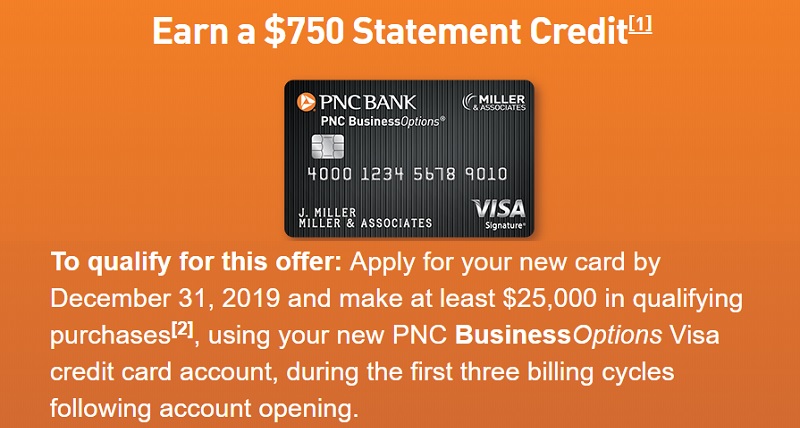 The PNC BusinessOptions Credit Card is allowing you to earn a $750 bonus once you spend $25,000 within the first three statements periods of opening the card. Sign up for the card before the bonus expires December 31, 2019.
This card is designed for those businesses who spend $50,000 or more and want a unique rewards card with little requirements.
PNC BusinessOptions Credit Card Features
$750 bonus after making at least $25,000 in purchases in your first three statement periods.
Choose between a pay-in-full option with a credit limit up to $250,000 or a revolve option with a credit limit up to $50,000.
Choice between 3 rewards programs:

Cash Rebates

Rebates automatically credited quarterly to your card statement.
No category restrictions for earning cash rebates.
Revolve Option – 1.5% cash back on net purchases.
Pay-In-Full Option – 1% cash back on net purchases.

PNC Points

Earn 5 points for every $1 of qualifying purchases.
Rewards include merchandise, gift cards, travel or statement credits.
Aggregate rewards for the business or leverage points for employee recognition at the individual level.

Travel Rewards

Earn 1 mile for every $1 in eligible net purchases.
Conveniently book travel, then redeem miles for a statement credit.
Aggregate miles at the company level or allow employees to earn and use miles for their own travel.
No fees for purchase transactions made outside the United States.

There are no fees for individual cards.
Ability to limit individual employee spending by merchant or purchase category.
No foreign transaction fees.
Online access to view transactions and generate reports.
Expense allocation features provided by the Advanced Reporting Tool.
Additionally, you can put your company logo to cards for just $350.
No annual fee for the first year but on the 13th statement it will increase up to $500, but it can also be reduced or waived entirely:

Spend at least $50,000 and the annual fee gets reduced to $250.
Spend $75,000 and the fee will be reduced to $125.
If you spend $100,000 or more and the fee will be waived entirely.
Apply Here
PNC BusinessOptions Credit Card: If you are interested in this card, be sure to apply today!
Bonus Requirements
In order to earn the $750 bonus, you must spend $25,000 within three statement periods of opening the account.
Alternative Options
Author's Verdict
With the PNC BusinessOptions Credit Card, you are able to pick between three rewards programs. You can pick between Cash Rebates to earn cash back on purchases, PNC Points and earn points that you can redeem for gift cards, merchandise, and travel statements, and lastly Travel Rewards where you can earn miles for statement credits!
Provide feedback in the comment section below by telling us your thoughts and experience with this card. If you are also interested, PNC also offers PNC Bank bonuses when you open a bank account with them and meet all the requirements. Additionally, make sure to visit BankDealGuy to explore our full list of credit card bonuses.