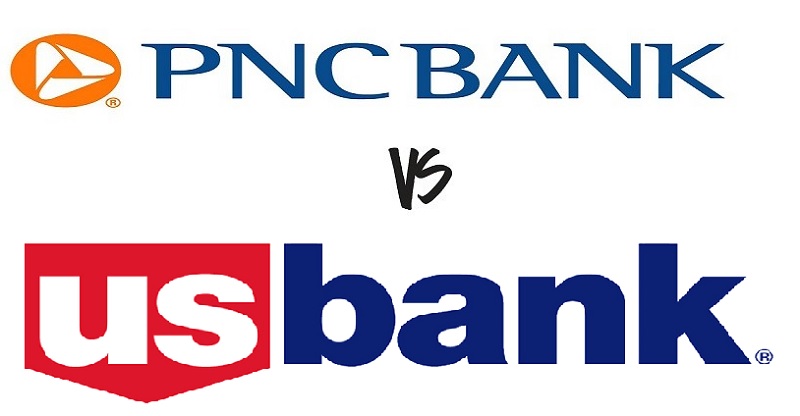 US Bank offers a wide variety of account options and features catered to your every banking needs. With over 3,000 branches across 26 states, you are able to take advantage of both a personal and business checking account.
Comparatively, PNC Bank has over 2,600 PNC branches across 19 states. There is of a variety of checking and savings account options with differing perks, but they are known for the budgeting tools such as the Virtual Wallet.
Continue reading to see a complete comparison of PNC vs US Bank.
US Bank
PNC Bank
Locations
Nearly 3,000 branches (Locator)
2,600 PNC branches across 19 states.(Locator)
ATMs

More than 4,700 ATMs across the country

9,000 ATMs across 19 states
Savings
3/5
3/5
CD

4/5

2/5
Checking
3/5
4/5
Money Market
3/5
3.5/5
Customer Service
3/5
4/5
Mobile App
4.5/5
4.5/5
Pros
-Great customer service
-Wide selection of accounts
-Widespread availability
-Virtual Wallet tools
-Relatively easy to waive fees
-Free student account
Cons
-High minimums to waive fees

-Low savings APY

-Limited branches
-Low APY
Bottom Line
Big national bank with wide array of services and many account options
PNC Bank offers many options for checking and savings accounts with a variety of budgeting tools.
US Bank Promotions
US Bank is currently offering a variety of checking, savings as well as investment accounts to meet your financial needs. Additionally, you will be able to utilize all the account features and benefits associated with your new account.
As an added perk, All US Bank checking accounts offer free online banking, bill pay, and mobile deposits.
US Bank also offers a few other options including:
Overdraft Protection: You can link up to 3 eligible accounts to help cover overdrafts. If you link a US Bank money market or savings account, funds will be transferred to cover the overdraft without transfer fees. Additionally, you can link a US Bank credit card, a line of credit, or a home equity line of credit. However keep in mind that these options may include a transfer fee and are subject to interest.
Send money with Zelle: Easily send money to anyone with a U.S. phone number or U.S. email address.
What to Open at US Bank
Keep your eye out on these great US Bank products:
Promotional CD Special: US Bank offers a CD Special with fairly competitive rates. These CDs usually range from 9 to 59 months and require a minimum $1,000 deposit to open.
Student Checking: This account has no monthly service fee and no minimum balance requirements for students. Additionally, you get 4 free non-US Bank ATM transactions per cycle and the first set of checks are free.
PNC Bank Promotions
PNC Bank frequently offers cash bonuses for new checking customers. Some deals are only available for residents of select States, so make sure you read the fine print carefully.
All PNC Bank checking accounts offer free online banking, bill pay, and mobile deposits.
Virtual Wallet Account
This is PNC Bank's signature product. This can be paired with any of PNC Bank's checking accounts. Continue reading to see all the wonderful features:
Checking & Savings Together: You get a checking account (Spend), a short-term savings (Reserve), and high-interest savings (Growth) account. These accounts are designed to help achieve your current banking needs and short-term and long-term goals.
Financial tools: This is the biggest perk of the Virtual Wallet account. There are a variety of financial tools to help you create a budget, keep track of your spending, set up goals, save, get "danger days" alerts, and more.
Automatic overdraft protection: If you overdraw your Spend account, funds from your Reserve account will automatically be transferred to cover the overdraft. If you need it, your Growth account can serve as your secondary overdraft protection account.
Earn relationship rates: When you meet certain debit card or direct deposit requirements, you'll earn the higher relationship rate on your Growth account for the following month.
ATM fee reimbursement: Depending on which Virtual Wallet account you have, you can have some or all of non-PNC ATM fees reimbursed.
Conclusion
All in all, PNC Bank and US Bank both offer fantastic banking products, service and care for their customers. With a range of checking, savings as well as money market options, you will definitely find an account to personalize your banking experience.
For more variety of options, see our list of the best bank account bonuses & savings account offers.