If you're looking for a way to keep track of your money without the commitment of a credit card, then consider getting a prepaid card! Simply add money to your card and start spending! The NetSpend Visa Prepaid Card has the benefits of a credit card without the hassle.
You can earn cash back on many of your everyday purchases when you shop with Payback Rewards, get paid interest with a no-minimum 5.00% APY Savings Account, and best of all, you can refer a friend to Netspend and get a $20 bonus for every friend that adds $40 to their card. Keep on reading to find out more!
NetSpend Visa Prepaid Card Features:
Add Money

Netspend makes it easy to add money. You don't even have to go to a physical location to do it. You have the option to load checks directly from your phone using Netspend's Mobile Check Load!
Another way to add money is with Direct Deposit, and your paycheck or government benefits can be in your Card Account up to two days faster.
You can add cash or paper checks, too. Skip the line completely and load checks directly from your mobile phone in minutes with Mobile Check Load. Or stop by one of over 130,000+ convenient Reload Locations nationwide to add cash or checks in person.

Go Shopping, Pay Bills, and More

You have the option to handle all your expenses just from this one card!
You can shop anywhere and get cash back while you do it.

Stay In Control

Your Netspend Prepaid Card allows you to easily keep track of every dime, which is an especially useful tool when life gets to hectic to remember your expenses.
You can access your account on-the-go with our Mobile App or at home through the Online Account Center. Or if you just need a quick update, sign up for Anytime Alerts and get text messages for things like when your paycheck's in your account. You can even refill your prepaid mobile phone.
Thankfully, Netspend Premier cards also provide a $10 Purchase Cushion so you don't have to worry when you have to spend a little extra.
Apply Now
NetSpend Visa Prepaid Card: If you're interested in this service offer, apply today!
Refer Your Friends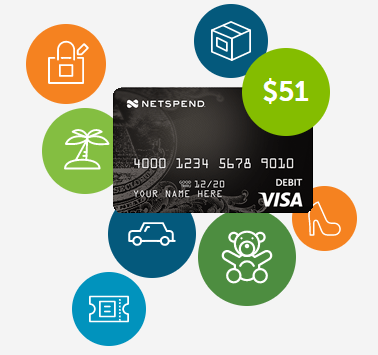 Don't keep all this to yourself! Spread the word about NetSpend's Visa Prepaid Card so your friends can benefit from all these features as well. Plus, when you do refer a friend who activates their new Netspend Prepaid Card and loads at least $40, you both get $20 credit!
It's great to have a person who is both your friend and helps you earn money. The best thing about having a prepaid card is there are no interest charges, late fees, or annual fees. That means you can refer this card to your friends knowing that the benefits heavily outweigh the disadvantages, if there any.
What makes this better? There's an unlimited Refer a Friend rewards. As many friends or family members as you have, you can refer them all. Simply log into your account to start referring today! Learn More.
How to Get Your Bonus
Have a friend refer you
Apply for the NetSpend Visa Prepaid Card
Use the referral code given to you 5964952017
Activate your card when it comes
Load your Netspend card with at least $40
Receive your $20 bonus!
Author's Verdict
If you're looking for the benefits of a credit card without the hassle, the NetSpend Visa Prepaid Card is for you! Get paid up to two days quicker, avoid credit check, and get cash back, all with one card.
If you apply today using our referral link, you can also get a $20 bonus! Let us know in the comment section below on your thoughts and experience with this service! Be sure to check back on BankDealGuy for more bank deals!