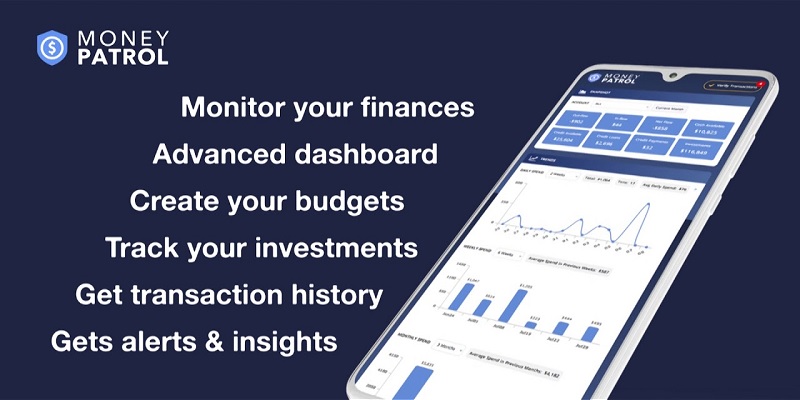 Budgeting and money management tools can be found anywhere. Money Patrol is focused on putting all of your finances in one place, and their software also helps you get a better understanding of what you are looking at.
Be sure to check out these other finance apps!
---
Money Patrol Features
Supported accounts:

You can connect to +15,000 financial institutions in both the US and Canada.

Transaction monitoring:

See a history of your transactions back a full year, allows you to quickly verify and spot any issues or inconsistencies.

Alerts:

Get text or email notifications relating to your expenses, income and transactions.

Reminders:

Set one-time or recurring reminders for bills so you never forget a payment.

Budgeting:

Create a budget with categories and manage your finances on a month-to-month basis.

Cash flow insight:

See what's going in and out of your accounts, so you can create the ideal savings plan.

Investment monitoring:

Tracks your investments, provides overall portfolio breakdown, as well as individual 401(k), IRA and brokerage accounts.

Loan monitoring:

Track your loans to see your payment history and what you still owe.

Document storage:

Upload receipts, statements or other financial documents you might want to keep in one place.
Members can access their dashboard which gives a detailed overview of your financial situation. You can look over recent transactions, spending habits, budget updates, recurring payments, credit usage and more.
You can also allow another Money Patrol user to have access to your account. This user will be able to view your insights and summaries, but not specific account information. They can't add or remove any of your accounts, and you can take away their access at any time.
---
How Money Patrol Works
When you sign up with Money Patrol they monitor all your financial accounts securely and helps you track your spending and manage your personal finances. Here's how it works:
Register:

Sign up for a Money Patrol account and subscribe.

Add your accounts:

Connect to your bank, credit card and mortgage providers, and other financial institutions.

Receive alerts & insights:

You'll have access to a customized dashboard, and Money Patrol will send you text and email notifications regarding your accounts.
---
Money Patrol Subscription & Pricing
Money Patrol is generally $7/month or $84/annually. However, if you sign up for the subscription currently you will receive 30% off ($4.99 per month, billed annually for $59.99) after a 15-day free trial. You can cancel your subscription anytime.
---
Author's Verdict
Money Patrol is a great all-around money management tool that's great keeping up to date on your finances.
Remember to bookmark this page because you will always find an updated list of Money Patrol promotions here.