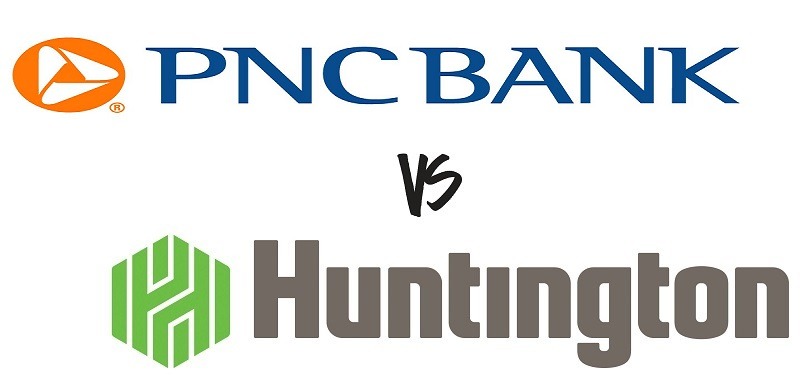 Huntington Bank offers a wide variety of account options and features catered to your every banking needs.
With over 1,000 branches as well as over 1,800 ATMs, residents in the Midwestern states are able to take advantage of both a personal and business checking account.
Likewise, PNC Bank offers unique account options such as Virtual Wallet to help you achieve your financial goals.
Through over 2,600 branches spread throughout the East, you will be able to take advantage of account services and features designed specifically for you.
So how does Huntington Bank compare to PNC Bank?
Huntington Bank
PNC Bank
Locations
Nearly 1,000 branches (Locator)
2,600 PNC branches across 19 states.

(Locator)

ATMs
Over 1,800 ATMs
9,000 ATMs across 19 states
Savings
3.6/5
3/5
CD
4/5
2/5
Checking
4.6/5
4/5
Money Market
3/5
3.5/5
Customer Service
5/5
4/5
Mobile App
3.6/5
4.5/5
Pros
-Free checking option
-24-hr grace for overdrafts
-All day deposit
-24-hr customer service
-Virtual Wallet tools
-Relatively easy to waive fees
-Free student account
Cons
-Limited branches
-Low savings APY
-Limited branches
-Low APY
Bottom Line
Huntington offers great account benefits and offers a great free checking account option.
PNC Bank offers many options for checking and savings accounts with a variety of budgeting tools.
Huntington Bank Promotions
Huntington 25 Checking accountHuntington 5 Checking accountHuntington Asterisk-Free Checking accountHuntington Unlimited Plus Business Checking AccountHuntington Unlimited Business Checking AccountHuntington Business Checking 100 AccountHuntington Relationship Money Market Account
PNC Bank Promotions
PNC Bank is currently offering a variety of checking, savings as well as investment accounts to meet your financial needs.
Additionally, you will be able to utilize all the account features and benefits associated with your new account.
Qualified residents can choose between a Performance Select, Performance Checking as well as Standard Checking.
Additionally, you can set up your savings account as part of the Virtual Wallet. The higher the account, the more interest you will earn on your savings.
Additionally, The Premier Money Market Account offers an attractive interest rate on your account balance.
PNC also offers a few other options including:
CDs: Depending on the term you choose, you will be able to take advantage of higher rates of interest.
IRAs: Through PNC's tax-advantaged accounts, you can start saving for your futures ahead.
"S" is for Saving: A savings account for children up to age 18. PNC offers a kid-friendly way to learn about savings through the use of Sesame Street characters and interactive online banking features.
Conclusion
In conclusion, Huntington Bank and PNC Bank both offer fantastic features, service and care for their customers. With a range of checking, savings as well as money market options, you will definitely find an account to personalize your banking experience.
For more variety of options, see our list of the best bank account bonuses & savings account offers.