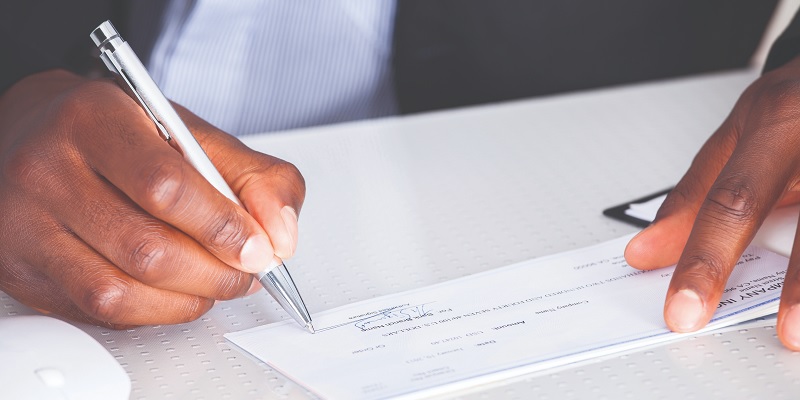 A money order is an alternative to a check that can be bought either wish cash or a debit card . In some cases, such as renting an aparment, they may require a money order.
In this guide we will breakdown what a money order is and how to fill one out.
What is A Money Order?
Money orders are a safe alternative to checks. Similar to a check, all you have to do is enter the name of the person you are sending money to with the amount that you want to send. Money orders however, also have a maximum limit of $1,000 so you would need to send more than one to exceed that limit.
Money orders do not have any fees for the payee, but may have additional costs for the issuer. Be sure to contact your customer service representative to know what you are paying for when you fill one out. Typically, most financial institutions will charge a convenience fees to issue money orders. Money Orders can be purchased at many locations and from certain authorized agents but typically you can always get it from your bank .
Steps to Fill Out a Money Order
Gather the desired funds for the money order (plus fee) that you are willing to send.
You will also need the recipient's contact information, and your account number if you're paying a bill.
Go to a bank or financial institution and purchase a money order
Fill in the recipient's name and address. and your name and address.
Include a memo or your account number if needed.
Sign the front of the money order.
Don't sign the back of the money order; that's where the recipient signs when they cash the money order.
When Should I Use a Money Order?
Money orders are definitely one of the safest payments, but in some cases they are sometimes risky because they aren't as commonly accepted as checks. When deciding which one to use, these are scenarios where it is better to use a money order :
Send a payment more securely. They don't include your bank account number.
You're mailing money. Only the recipient can use it, unlike mailing cash.
You're sending money internationally. U.S. Postal Service can send them to about 30 countries.
You don't have a checking account and need to pay bills. The money isn't tied to any bank account and can be sent to other people.
Worried about bouncing a check. They can't be rejected for insufficient funds because they are prepaid.
Another option: A certified check or a cashier's check, both of which guarantee payment and don't necessarily have a $1,000 limit, unlike many money orders.
Cashier's Check vs Money Order
Cashier's checks and money orders might seem interchangeable and fit each situation, but depending on the situation, one form of payment is more useful than the other.
It's best to use a money order when:
You need to mail a payment and want to avoid sending a check or cash.
You are sending money you are not acquaintances with
On the other hand, a cashier's check is a better option when:
The total payment amount exceeds the cap for a money order.
You prefer the heightened security of a Cashier's Check vs  Money Order.
Conclusion
Let us know in the comment section below if it did! If you don't have a savings account, see our best savings account section. Looking to add a little extra income each year? If so, see our list of the best bank deals!