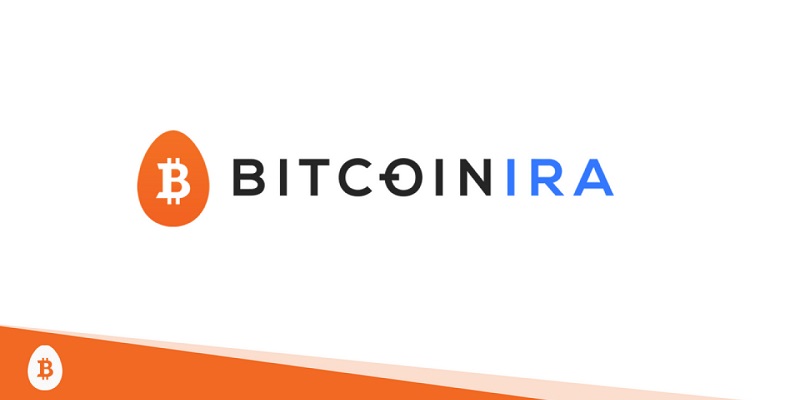 Looking to do more with your cryptocurrency? Let me introduce you to BitcoinIRA.com: the world's first, largest, and most secure service that allows you to invest your Bitcoin, Ethereum, Ripple, and more, into your IRA. The entire process is made simple, fast, and safe, so you can reach your retirement goals with the help of cryptocurrencies. Since the company's start, they helped over 50,000 members who made over $400 million in transactions.
Find more information about BitcoinIRA.com below.
(Learn More at BitcoinIRA.com)
Bitcoin IRA Features
Eligible Retirement Accounts
IRA

ROTH IRA

SEP IRA

SIMPLE IRA

403b

401k

Investment Minimum
$3,000
Investment Cap
None
To summarize Bitcoin IRA, the platform allows you to buy and sell crypto in your IRA. Some features include:
Variety of Investment Options: Bitcoin IRA allows users to invest with Bitcoin, Ethereum, Litecoin, Bitcoin Cash, Stellar Lumens, Zcash, and physical gold.
Customized Dashboard and Digital Wallet: Through the dashboard, you can fund your account, access live-pricing, and learn more with their knowledge base, which includes tutorial videos, infographics, and more.
Tax-Advantaged Cryptocurrency Retirement Account: Potential to make tremendous gains while also avoiding capital gains tax.
24/7 Trading: You can trade anytime, anywhere.
(Learn More at BitcoinIRA.com)
Bitcoin IRA offers a simple sign-up process which will walk you through the application process from start to finish. Additionally, they will set up your account, offer to rollover your funds from an existing IRA account, execute the self0directed trade, and move your crypto-coins securely into a digital wallet.
Saver IRA Features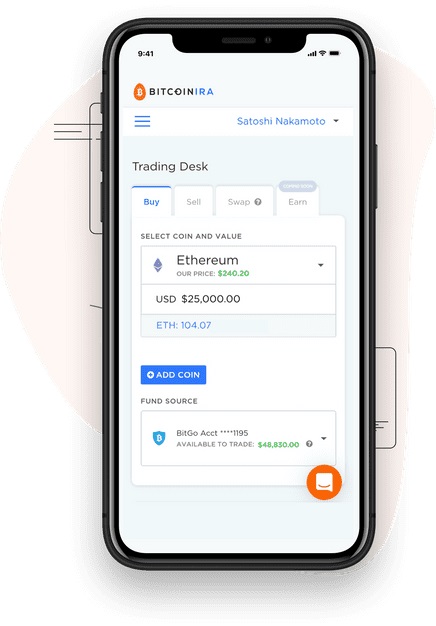 Bitcoin IRA's Saver IRA allows you to contribute monthly and automatically invest your contributions in cryptocurrencies.  You can save fr oyur future and invest in bitcoin for only $100 a month. Some account features include:
Automated Crypto Investing: Contributions are automatically invested into cryptocurrencies of your choosing.
Monthly Recurring Contributions: By connecting a checking or savings account, you can contribute every month
Significant Tax-Free Advantages: Allows you to maximize your account growth with tax deferred investing.
IRA Earn Features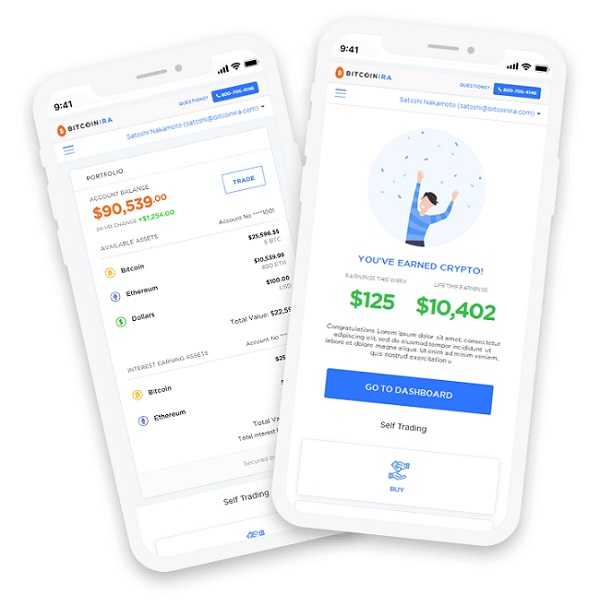 Earn up to 6% interest in your Bitcoin IRA by earning interest payouts on the cash and crypto inside your retirement account.  By entering this program, you essentially loan your assets to Bitcoin IRA's lending provider, who then lends out your funds to vetted institutional borrowers. In return, you end with the majority of interest made on the loans. Some features include:
Monthly Payouts: Earnings are accrued daily and paid out monthly to your retirement account.
No Lockup Period: Bitcoin IRA's open terms allow you to earn interest on your assets without lengthy contract periods.
Low Minimums: Start for as little as $10,000.
Security Features
The digital assets you provide Bitcoin IRA are stored with BitGo Trust, who are insured for up to $100 million by Lloyd's of London, their insurance provider. Additionally, all Bitcoin IRA investments are stored offline, with their webapp secured with 256-bit encrypted SSL certification. All wallets also use industry-leading standards of multi-sig for security and HD for financial privacy.
How Bitcoin IRA Works
To open an account with BItcoin IRA, the platform offers a simple 3-step process:
Create an account in under 3 minutes, which gives access to your customized dashboard and digital wallet.
Transfer funds to your IRA telling Bitcoin IRA how much you would like to transfer, how you want to fund your account, and your profile information. Most accounts will be ready to trade in just 3-5 business days.
Start Trading 24/7 in real time through your self-directed retirement account using Bitcoin IRA's proprietary platform.
Bitcoin IRA Fees
Bitcoin IRA has a one-time service fee that varies depending on your investment amount. This fee covers the following comprehensive services:
Full support services for rollover of retirement funds
Complete set up of a self-direct retirement account with BitGo Trust
Best in-class security storage
In addition, there is also a minimal custodian and security fee. For more details about your one time service fee and any additonal fees, contact a Bitcoin IRA representative.
Author's Verdict
Bitcoin IRA is a new and revolutionary way to combine both your cryptocurrencies and retirement account. Their simple application process, plethora of features, and safe funds with BitGo Trust makes Bitcoin IRA a very attractive option.
(Learn More at BitcoinIRA.com)
Additionally, you can find a full list of the best bank promotions here. Finally, remember to bookmark this page to stay updated on Bitcoin IRA promotions here.