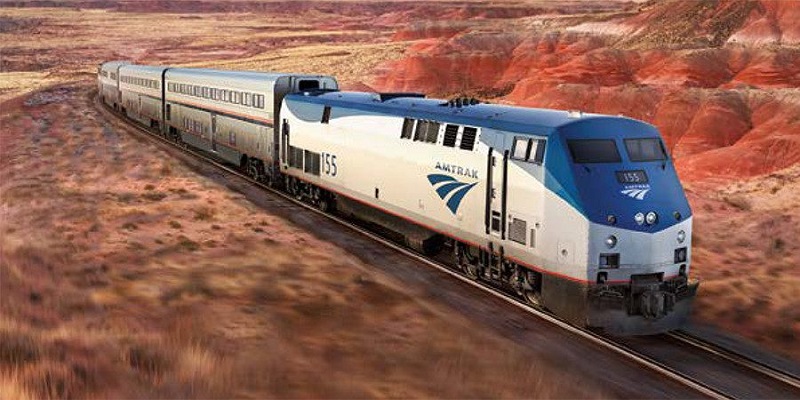 Love traveling by train to avoid all those long airport lines? Then be sure to check out the Amtrak Guest Rewards® World Mastercard®! This card offers a 50,000 points bonus after you make at least $1,000 in purchases in the first 90 days of account opening.
This card is great if you travel with Amtrak often as it offers 3X points per $1 spent with Amtrak, 2X points per $1 spent on all other qualifying travel purchases and 1X point per $1 spent on all other purchases.
When you sign up with Amtrak you can earn a 50,000 bonus points which are valued up to $1,250.
*Amtrak Gust Rewards World Mastercard is issued by Bank of America, who also offer great sign-up bonuses for its Checking/Savings accounts.
Amtrak Guest Rewards World Mastercard
Bonus Available
Get 50,000 bonus points after you make $2,500 or more in purchases within 90 days of account opening.
*Bonus Value
$1,250
Travel Credit
No travel credit, but you get:

One complimentary companion coupon
One one-class upgrade

Ongoing Rewards/Benefits
Earn 3 points per $1 spent with Amtrak, 2 points per $1 spent on other qualifying travel purchases, and 1 point per $1 spent on all other purchases.

Get a 5% point rebate when you book your Amtrak redemption travel.

Foreign Transaction Fees
None
Airport Lounge Access
Receive one single-visit station lounge pass for access to ClubAcela, Amtrak Metropolitan or First Class lounges.
Annual  Fee
$79
Recommended Free Credit Score
690 – 850 (Good – Excellent)
*Bonus value is an estimated value calculated by BankDealGuy and not the card issuer.
*View our latest valuations here.
PROS
Welcome bonus
High point value
Redemption rebate
Transfer partners
No foreign transaction fees
CONS
Annual fee
Good-Excellent credit needed to qualify
Amtrak 50,000 Bonus Points Offer
Make use of the Amtrak Guest Rewards card's 50,000 bonus points offer. The evaluation for their points' value will be worth about $1,250 (more on that below).
You must charge a minimum of $1,000 to your card in the first 90 days of having your account open to be able to qualify.
Here are some ideas on meeting the spending requirement:
Meeting Credit Card Bonus Spending Requirements


• Plastiq - Using Plastiq allows you to pay for your personal expenses such as rent, tuition, mortgage, auto lease etc. Although they charge a 2.5% processing fee for using your credit card, this will contribute to the card bonus that you will receive. There is also a referral program that allows you to earn "Free-Free Dollars" that goes towards processing fees as well.

• Funding Checking Accounts - When it comes to funding a checking account, opening your initial deposit with a credit card is the usual way to go about it. However, if you want to have more opportunities, you should open a checking account that offers a sign-up bonus. This allows you to work towards bonuses from not one but two different sources instead. Banks like Chase, Huntington Bank, TD Bank and BBVA offers credit card funding, and for your opening deposit, you can often fund anywhere from $50-$1000 with a credit card, depending on what bank offers it.

• Gift Card Purchases With Using a Credit Card - Another way to acquire the bonus is using your credit card to purchase gift cards. Buying a a gift card or an individual merchant card typically do not require a purchase fee and are used towards leisure, so gift cards are ideal. However, gift cards such as a Visa or American Express do incur purchase fees because they can be spent anywhere, but gift cards that are specifically for a certain online shopping site such as Amazon or eBay don't.

As for a Citi Credit Card, you should call customer service and ask them to lower your Cash Advance limit to $0 before making any purchases because Citi tends to read gift card purchases as a Cash Advance.

Ideally, you should do this with any card just to be safe. Lastly, there is such thing as a discounted gift card which can be purchased on Raise or eBay. If you use a credit card often for everyday purchases, it can build your credit score that will contribute towards paying for things such as bills and taxes.



Alternative Ways to Meet Spending Requirements
What are Amtrak Guest Rewards Points Worth?
Compared to other different options of point-based credit cards, depending on how you decide to use your points will reflect their value. The evaluation for these Amtrak Guest Rewards points would be worth about $0.025. This is higher than the regular industry average of $0.01 for each point.
Amtrak Guest Rewards Card Top Features
Travel Perks
Redemption Refund
No Foreign Transaction Fees
When you open your account, you can enjoy the one-time benefits it comes with such as:
Companion coupon: Receive this Companion Coupon when you open your account every year and whenever you renew your account which will be worth about $300 for Amtrak traveling.
One-class upgrade: You can be upgraded one travel class on your one-way trip. Since a coach seat costs $50 and a business class seat is $200 on the same train, you would be able to save $150.
Single-visit pass to Amtrak clubs and lounges. This will be available to you and one other traveling companion (kids under 21). Getting this pass is about $25. Qualifying lounges will be:
Lounge
Locations
ClubAcela
Boston
New York
Philadelphia
Washington, D.C.
Metropolitan
Chicago
Los Angeles
Portland
First Class
St. Paul/Minneapolis
St. Louis
New Orleans
Raleigh
Get a 5% point refund when you redeem points for Amtrak tickets. This is an unlimited perk that will immediately let you know on your account. This redemption refund will be able to increase your rewards value and intake from $0.025 each point to over $0.03 each point.
Buy things overseas without stressing over any foreign transaction fees with the Amtrak Guest Rewards World Mastercard.
Author's Verdict
If you are looking for a travel rewards card, consider signing up for the Amtrak Guest Rewards World Mastercard if you plan on making those big purchases.
Provide feedback in the comment section below by telling us your thoughts and experience with this card. Make sure to visit BankDealGuy for more credit card bonuses.
(Visit Bank of America for more information)