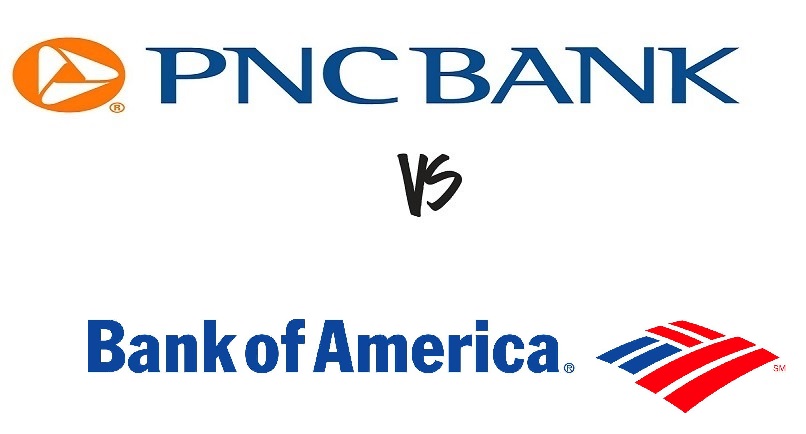 Bank of America is a huge nationwide bank with thousands of locations and ATMs. PNC Bank has 2,600 branches in 19 states mostly on the East, but how do they compare?
Read below and learn about which bank better suits your financial needs!
Bank of America
PNC Bank
Locations
Over 5,000 locations (Locator)
2,600 PNC branches across 19 states.

(Locator)

ATMs
Over 1,800 ATMs
9,000 ATMs across 19 states
Savings
3/5
3/5
CD
2/5
2/5
Checking
2.5/5
4/5
Money Market
NA
3.5/5
Customer Service
4/5
4/5
Mobile App
4.5/5
4.5/5
Pros
-National availability
-Extended customer service hours
-Full service bank
-Virtual Wallet tools
-Relatively easy to waive fees
-Free student account
Cons
-No free checking option
– Low interest rate
-Many miscellaneous banking fees
-Limited branches
-Low APY
Bottom Line
Bank of America operates nationwide offering many account options like checking, savings, and more!
PNC Bank offers many options for checking and savings accounts with a variety of budgeting tools.
Conclusion
Bank of America and PNC Bank are some of the top banking institutions within the U.S. But which is better for you?
In summary:
Bank of America has many account options and their user friendly interface and mobile app is noteworthy.
PNC Bank offers a variety of deposit account options and budgeting tools. In addition, PNC Bank's mobile app is worth mentioning.
Also be sure to check out our own lists of bank promotions and CD tables!