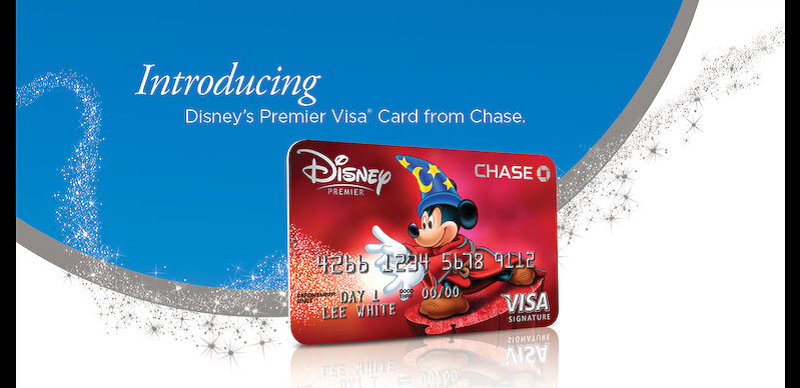 For all you Disney fans, Disney is currently offering a sign-up bonus if you open an account for the Disney® Premier Visa® Card. You can earn a $300 statement credit bonus after you spend $1,000 on purchases in the first 3 months from account opening. On top of that, you will be rewarded in many other ways! Continue reading to find out more.
(Visit Chase for more details)
The Disney Premier Visa is issued by Chase Bank. They also offer great sign-up bonuses. You can also compare this card with other credit card bonuses!
Disney Premier Card Summary
Bonus Available
Gain $300 as statement credit once you've spent a minimum of $500 in the first 3 months of having your account open.
*Bonus Value
$300
Ongoing Rewards/Benefits

Earn 2% in Disney Rewards Dollars on qualified Disney, gas, groceries, and dining expenses and 1% on other expenses.

Receive 10% savings on select purchases at Disney stores and shopDisney.com.
Get 10% off select merchandise expenses of at least $50 at select locations in Disneyland and Walt Disney World Resorts.
10% savings at select Disneyland and Walt Disney Resorts dining locations.

15% off select guided tours at Disneyland and Walt Disney Resorts.

Foreign Transaction Fees
3%
Annual Fees
$49
Disney Premier Card $300 Bonus
Make use of the welcome bonus offer of $300 as statement credit. You must charge your card with a minimum of $500 in the first 3 months having your account open to be able to qualify for this offer.
This isn't the best welcome bonus offer there is, but it's still a good one with the annual fee.
Here are some ideas on meeting the spending requirement:
What are Disney Rewards Dollars Worth?
One Disney Rewards Dollar is equal to $1. If you want to redeem your Disney Rewards Dollars, you have to have a minimum of 20 built up.
Your Disney Rewards Dollars can be used for almost anything Disney or Star Wars at most locations such as:
Theme Park tickets
Resort stays
Shopping
Dining
These Disney Rewards Dollars can also be redeemed towards statement credit for airline traveling.
Disney Premier Visa Card Top Features
Disney store. Receive a 10% discount when you've used your Disney Premier card at Disney stores or online. It looks like a great offer to have. However, lots of popular products aren't qualified for discounts.
Resort merchandise. Get 10% off select merchandise expenses of at least $50 at specific locations at Disneyland and Walt Disney World Resorts.
Resort dining. Have a 10% discount off select dining areas most days at Disneyland and Walt Disney World Resorts.
Guided tours. Get 15% off the non-discounted price of specific tours at Disneyland and Walt Disney World Resorts.
You can meet Disney and Star Wars characters aside from the crowd and general public at a private spot in Walt Disney and Disneyland resorts. You can get some complimentary photo downloads as well.
Author's Verdict
So here are some additional things you should know about the Disney® Premier Visa® Card:
There is no limit to the number of Disney Rewards Dollars you can earn
Redeem toward most everything Disney, including Theme Park tickets, Resort stays, shopping, dining, movies and more
No block-out dates when redeeming Rewards Dollars
You get to choose from 10 Premier-only card designs
While it may sound like a nice card offer with good benefits, it only makes sense to obtain this card for solely just the meet & greet features (if you go to Disney World on a regular basis), 10% on select merchandise purchases of $50 or more at DisneyStore.com and Disney Store locations, and the sign-up bonus. The 2% cash back reward is not appealing here because you're basically paying an annual fee of $49 to get cash back in selected categories. This is a waste when you can get the same cash back rate for ALL purchases on other cards.
Provide feedback in the comment section below by telling us your thoughts and experience with this card. Make sure to visit BankDealGuy for more credit card bonuses.
(Visit Chase for more information)