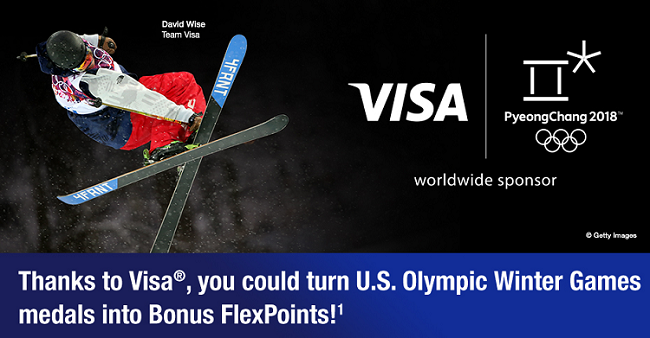 The US Bank FlexPerks Travel Rewards Card has brought back its popular promotion for an increased signup bonus tied to Team USA's performance in the Winter Olympics. This offer is currently only available in-branch, but will likely be offered online as well in the coming days. So, apply between February 5, 2018 and March 10, 2018, then, upon approval, make a purchase with your new card by April 6, 2018 and you could earn Bonus FlexPoints for every medal Team USA wins at the Olympic Winter Games PyeongChang 2018!
U.S. Bank FlexPerks Travel Rewards Visa Olympics Features
U.S. Bank is offering an increased sign up bonus on the FlexPerks Travel Rewards card for the Winter Olympics. Bonus is as follows:

25,000 FlexPoints  after $2,000 in spend
Bonus points based on medals Team USA wins at the 2018 PyeonChang Winter Olympics:

500 for gold
250 for silver
100 for bronze

Earn 1 FlexPoint for every $1 spent
Earn 2 FlexPoints on gas or grocery or airline purchases, whichever you spend the most on every month
Earn 2x FlexPoints most cell phone purchases, including monthly bills, accessories and Internet charges
Earn 3 FlexPoints for charitable donations
FlexPoints are worth 1¢ in statement credit 2¢ when redeeming for travel
Annual fee of $49 is waived the first year
Apply Now
Apply for the U.S. Bank FlexPerks Travel Rewards Visa Olympics today to take advantage of this bonus and earn your benefits.
Bonus Requirements
The base bonus is 25,000 bonus points, which you can earn when you spend $2,000 in four months of account opening. Then, you can earn extra bonus points for each medal USA earns.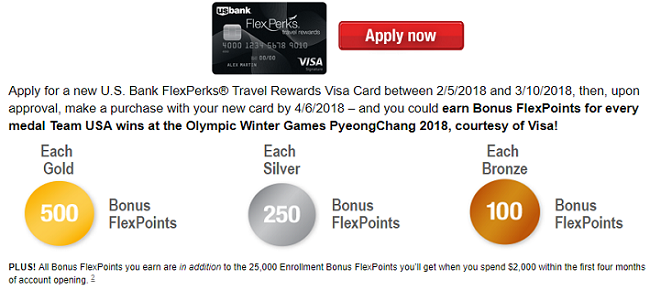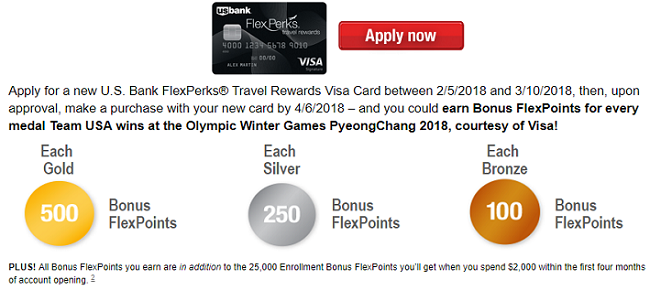 Now that the Olympics are over we know the bonus is a total of 32,100. The points are broken down as follows:
25,000 FlexPoints  after $2,000 in spend
4,500 for gold medals (9 gold earning 500 each)
2,000 for silver medals (8 silver earning 250 each)
600 for bronze medals (6 bronze earning 100 each)
Alternative Options
Author's Verdict
Receive 25,000 bonus points after you spend $2,000 in the first four months, and then earn additional points for every medal the United States wins in the 2018 Winter Olympics. Make sure that you accomplish the necessary requirements before March 10, 2018. Increase your patriotism by rooting for USA to win! The more medals we win the more points you earn. Also, if you're tired of the rising gas prices, check out our Best Credit Cards for Gas Purchases! Make sure to visit BankDealGuy to explore more credit card bonuses.