Going paperless and online banking is a great way to save the environment. Banks like TD Bank encourages their users to help the environment by going paperless and keeping your Bank Statements and Notices Online. Users that go paperless enjoy a list of benefits for doing so and is a great way to convenient and clean banking!
Editor's Note: If you are interested in more TD Bank Deals, Bonuses, and Promotions, see our compiled list of TD Bank Deals.


With the TD Convenience CheckingSM Account:
• Earn $150 when you receive direct deposits totaling $500 or more within 60 days
• Low minimum daily balance of $100 waives the $15 monthly fee.
• Students and young adults ages 17 through 23 get additional perks like no minimum balance requirements and no monthly maintenance fee.
• Instantly replace a lost or worn debit card by visiting a TD Bank location near you
• Access accounts via Online Banking with Bill Pay, Online Statements and TD Bank Mobile Deposit, with 24/7 cash access at TD ATMs in the U.S. and Canada – plus 24/7 Live Customer Service
• Get a 0.25% discount on TD Bank Home Equity and Personal Loans


Why You Should Go Paperless at TD Bank:
Paperless banking is convenient, safe, and green. TD Bank offers great perks to paperless customers!
Enjoy Lower Fees– Paperless statements allow you to avoid the $1 monthly paper fee for checking accounts. While Savings and Money Market accounts, get $1 off their monthly maintenance fees for switching to Online-Only.
Review up to 7 years of bank statements and notices– Get access to one convenient place with PDF files of statements starting from April 2010- March 2015.
Access your statements and notices 24/7– Always have access to your Statements and Notices
Secure Online Statements– They will stay safe with the bank at all times
Constant Access to Account Activity– Always be aware of what is going on in your account from email reminders of Overdraft, statements, or stop payment notices for your checking accounts
Environmentally Friendly– Online Paperless statements helps the environment and is a great way to live green!
Comparison of TD Bank's Online vs Paper Statements: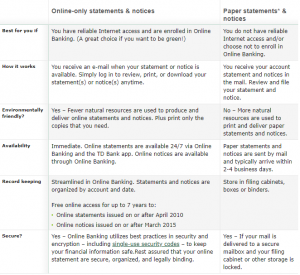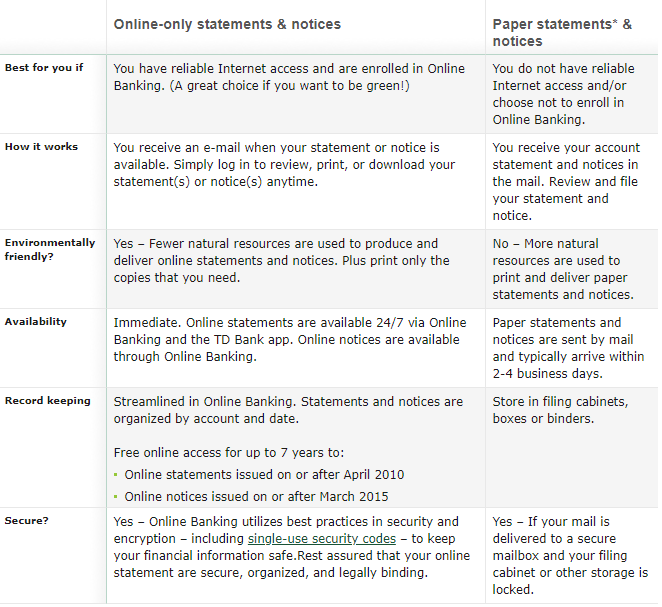 How to Go Paperless with TD Bank:
To go paperless, update your Online Statement Settings in Online Banking or on the TD Bank app. You can also call 1-888-751-9000 anytime, or visit a TD Bank near you.
TD Bank Mobile App
Still Have Questions?
Their banking specialists can help you over the phone. Call 1-888-751-9000.
Author's Verdict:
The environment is important to everyone! If you're with TD Bank, check out going paperless! Going paperless offers a number of benefits and is good for the environment. If you would like to go paperless at TD Bank, update your online statement settings in their Online Banking or TD Bank app. You can also just call them at 1-888-751-9000 or visit them at your local TD Bank. If you're thinking of opening up a credit card, check out our Best Credit Cards List. If you're thinking of investing more and looking for a Broker, check out our list of the Best Brokers.


• Open a TD Beyond Checking account online and earn $300 when you receive direct deposits of $2,500 or more within 60 days of opening your account.
• With the TD Beyond Checking with Payback Plus, you'll earn interest and get reimbursed for fees like ATM transactions, overdrafts, Rush Bill Pay and outgoing wires – on top of all the perks you'd expect from everyday checking.
• Pay no monthly maintenance fee with monthly direct deposits of $5,000 or more, a minimum daily balance of $2,500, or a combined balance of $25,000 across your eligible TD accounts.
• TD Beyond Checking Review