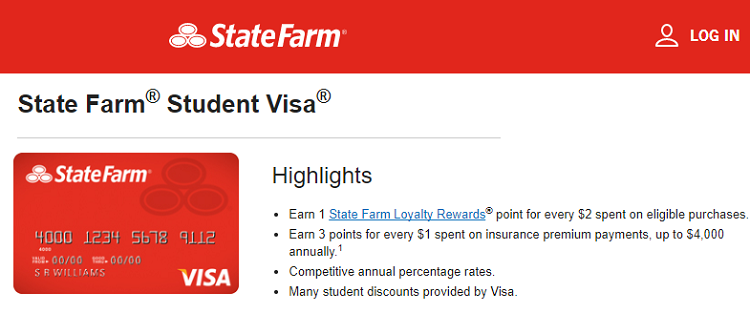 Why not have the best of both worlds and sign up for the State Farm Student Visa Credit Card. With this card made with students in mind, you can earn 3X points on insurance premium payments! Not only that, but you get 1X State Farm Loyalty Rewards points for every $2 spent on eligible purchases with no annual fee. Keep reading for more information on this card.
State Farm Student Visa Credit Card Features
Earn 1 point for every $2 you spend with your State Farm Student Visa card at millions of locations around the world. For example, you spend $100, you will earn 50 points.
Earn 3 points for every $1 spent on insurance premium payments, up to $4,000 annually.
You can redeem points for gift cards at popular retailers, e-certificates, catalog merchandise, air travel, hotels, and eligible State Farm products.
You can also use your points as a gift, or transfer your points between State Farm Loyalty Rewards accounts that you own. You can use your points as a gift to another State Farm Loyalty Rewards accountholder.
A variable rate of 12.49%–19.49% APR for purchases and balance transfers based on creditworthiness; This APR will vary with the market based on the Prime Rate.

Balance transfer fee of $10 or 3% of the amount of each balance transfer, whichever is greater (maximum fee: $250).

No annual fee
Apply Here
Apply for the State Farm Student Visa Credit Card today to take advantage of this great deal!
Alternative Options
Author's Verdict
Sign up for the State Farm Student Visa Credit Card to get up to 3X points back on select purchases. Although this is an alright option for students, there are definitely better cards out there. The points back options aren't that useful unless you are spending a lot on insurance payments, but this card does have some redeeming qualities such as no annual fee and various student discounts offered by Visa. Check out our Best Credit Cards For Students master post to see some other credit cards made for students. If you're not looking for student cards, be sure to check back on BankDealGuy for more best credit card deals and best credit card categories!