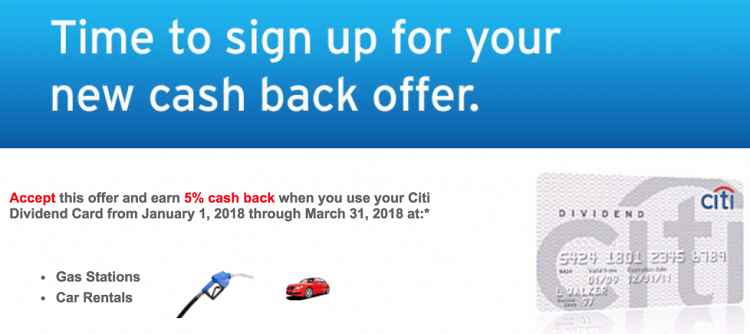 For this particular post, if you already are an owner of a Citi Dividend card, you can start earning 5% cash back on set-selected categories for 2017. Each quarter (3 months), the categories in which you earn 5% cash back vary. For the first quarter, spanning January 1, 2018 to March 31, 2018, you get cash back on gas stations and car rentals.
Want to find out more about how you can activate these rewards? Please continue to read below.
---
5% Cash Back Categories
The total cash back you can earn with the card is $300 per calendar year. So you'll get 5% on up to $6,000 spend for the whole year and it could even be all in one quarter if you prefer.
Right now, you can still sign up for the 1st quarter here to start receiving 5% cash back at at hotels and resorts within the Hilton Portfolio and airlines.
Be sure to visit BankDealGuy to explore the best credit cards related to 5% cash back categories.
---
Gas Purchase Categories
For gas purchases, you will be able to earn a generous amount of 5% cash back at participating U.S. restaurants, supermarkets and gas stations. From what we've seen, this is no doubt one of the higher earning and rewarding credit cards in the market.
Visit BankDealGuy's website to explore the more of the best credit cards related to gas purchases here.
---
Citi Dividend Card Features
Earn 5% cash back on quarterly categories
1% cash back on all other purchases
No annual fee
Rewards capped at $300 per year
-25% online rebates through Citi Bonus Cash Center, unlimited
0% introductory offer of 12 months
No Annual Fee
Card Members Sign-Up Here
This is only available to those who are already a Citi Dividend Card member.
Citi Dividend Card: If  you are a card member and this cash back offer appeals to you, click this link to access your account and sign up for the quarter that is currently available.
Cash Back Requirements
For this offer, you are eligible to earn 5% cash back in set-selected rotating categories for each quarter of the 2017 calendar year.
Author's Verdict
To start off, you can no longer sign up to open an account. The Citi Dividend Card 5% cash back is only available and offered to those who are already cardholders. Additionally, with the card, there is a cap on how much cash back you can earn. Sadly enough, they only allow you to earn a maximum of $300 in cash back per year. That's equivalent to $6,000 of bonus spending total or $1,500 in bonus spending per quarter. All in all, this is not the only 5% cash back credit card that is being offered. Nonetheless, there are even better credit cards that offer the same 5% rewards as this card but with even better benefits such as the Discover It or Chase Freedom card.
So, unless you're already a card member, you might find other cards to be more appealing and fitting for your spending habits. Provide feedback in the comment section below by telling us your thoughts and experience with this card. Additionally, visit BankDealGuy for more cards related 5% cash back categories!