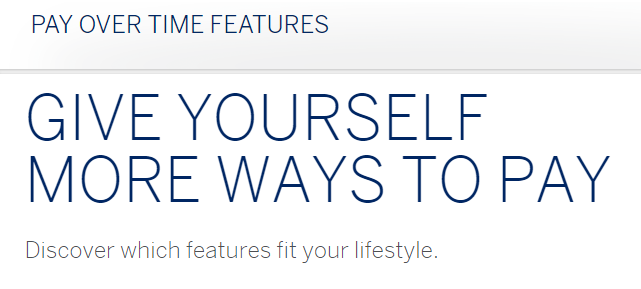 If you hold a card from American Express, then check your email/mail to see if you have been targeted to earn 10,000 Membership Rewards Points when you enroll for their Extended Payment Option. This is a really easy bonus to earn and you don't even have to make any purchases. To make this promotion even more worthwhile is that the Extended Payment Option is actually a helpful service that helps you flexibly carry a balance of pay in full each month. If you're interested in this offer, keep on reading to find out more.
Editor's Note: If you're interested in similar deals with American Express, check out our Best American Express Credit Card Promotion.
Amex Pay Over Time Offer In-Depth:
This American Express offer consists of various different charge cards such as the Platinum Card®, Amex EveryDay® Credit Card, Premier Rewards Gold Card, and Business Gold Rewards and so much more. If you don't know what a charge card is, it is a card without a preset spending limit and no interest rate. The Extended Payment Option is basically how to turn your charge card into a credit card and allowing you to carry a balance on charges over $100.
On occasions, American Express would target cardholders for a chance to earn points and miles with the added requirement of enrolling in their Extended Payment Services and usually there's very minimal requirement attached like this one. Keep in mind that there's a high interest rate when utilizing the pay over time feature so it isn't necessarily the best option for cardholders.
Bonus Requirements:
If you didn't receive this targeted offer in your email: Log into your AMEX Cardholder Account
Check to see if you are targeted under the "Amex Offers & Benefits" section or check your email for the subject line, "You Qualify for a Flexible Payment Option"
Enroll in Extended Payment Option. Your Pay Over Time Limit will be assessed
Registration and spending must be completed
Alternative Options
Conclusion
Check out this Amex Pay Over Time Offer for an easy to earn 10,000 Membership Rewards Points. Check your email and mail to see if you have been targeted, and if you don't see anything then try logging into your account to see if you were targeted. If you were selected for this offer on any of your charge cards from American Express, be sure to enroll in their Extended Payment Option services as soon as possible. Keep in mind that the interest rate will be rather high if you carry a balance over a statement cycle, which could reduce earnings in the 10,000 MR points promo. If you have received this offer and become approved when you enroll for their extended payment option, you should receive the points to your account within 6 – 8 weeks. If you're looking for credit cards to sign up for check out our Best Credit Categories master list for some great options.