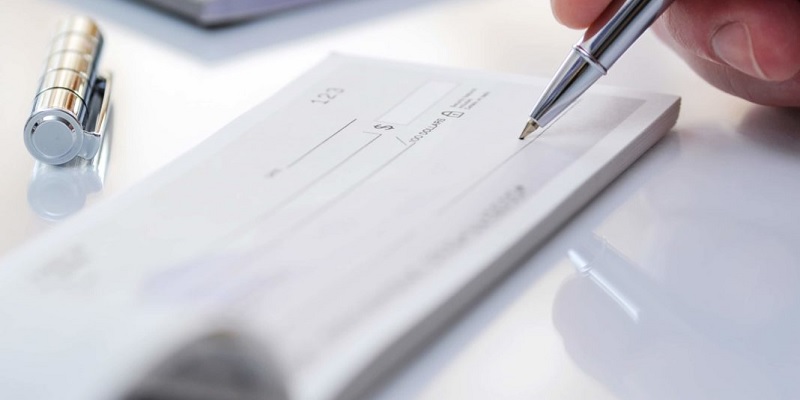 If you ever see money in your checking account but realized you can't use it right away, you are most likely experiencing a checking account hold. Although the money is there, you won't be able to use it until the bank releases the hold. This may lead to bounced checks or problems with automatic payment.
You might be wondering what the reason for this hold is and how can you prevent/remove it. Continue reading to learn everything you need to know about checking account holds!
---
What is a Checking Account Hold?
As mentioned previously, a hold causes funds to be temporarily unavailable. Even though the funds appear in your account, the bank freezes your account so you can't use it for electronic payments.
The reason for this is because, before the funds are made available to you, the bank wants to ensure that they receive the appropriate funds from a check that you deposited. A hold is put into place to protect you and the bank. For instance, you would have to cover the negative balance if you spend the money you received from the check that has been returned to the bank and not yet paid.
---
How Long do Holds Last?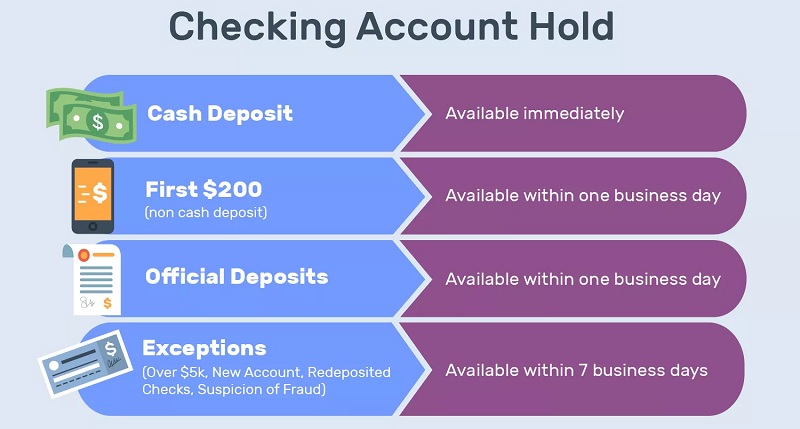 Occasionally, banks don't put a hold on specific deposits, meaning they are available immediately. On the other hand, some holds can last many days, depending on the type of deposit.
Cash Deposits: When you make a cash deposit in person to an employee at a bank, the funds are available within one business day.
First $200: Regarding non-cash deposits over $200, the first $200 must be available within one business day, while the remainder must be available by the second business day.
Official Deposits: Official deposits are usually available within one business day. If you deposit more than $5,000 of checks in a single day, the first $5,000 should be available within one day. However, there may be a hold on the remaining amount. Examples of official deposits include:

Official bank checks such as cashier's checks or certified checks
Money orders issued by the United States Postal Service
Checks issued by government organizations (such as a tax refund from the U.S. Treasury)
Checks drawn on the same institution you make your deposit at
---
How to Remove a Checking Account Hold
Find out what caused it: There are many reasons why you might have a checking account hold. It can be from making a check deposit, which is subject to standard hold times, or from using your debit card at a place that requires pre-authorization hold.
Ask to have it cleared: If you have a hold on your account through your debit card, try contacting the merchant and ask them to release the funds. Additionally, you should also try asking to have the hold removed if it was placed on a personal check that you deposited.
Wait it out: Unfortunately, sometimes you won't be able to do anything about a hold. This is because the bank needs to follow federal regulations. However, if the hold seems like it's been there for a while, contact the U.S. Consumer Financial Protection Bureau (CFPB) and file a complaint.
---
How to Prevent Checking Account Holds
For your paycheck, you should sign up for direct deposit because they tend to clear quicker. You could even get access to your money a couple days earlier!
For large deposits, you should ask for a form of payment that clears quickly, such as:
Wire transfers are often available within one day.
Cashier's checks, USPS money orders (but not other money orders), and certified checks can provide up to $5,000 within one business day.
Deposit in person. Depositing your money in person to an employee at a bank clears quicker than depositing at an ATM or through a mobile device.
When you use your debit card, make sure you ask if the merchant is going to place a hold on your account, and find out how much it will be. You should use a credit card instead or transfer enough money to cover the hold if the amount is excessively large.
---
Author's Verdict
Checking account holds are frustrating so knowing how to prevent them and what to do when they occur is important. If you have experienced a checking account hold, hopefully this guide has helped you with dealing with them!
In addition, we have a list of bank promotions to get some extra cash in your pockets today. You may also want to check out savings accounts if you want to get started on saving up money.